September 19, 2019
VA researcher Dr. Donna Washington receives Congressional Black Caucus award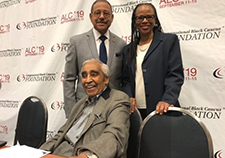 Rep. Sanford Bishop, Dr. Donna Washington, and Ret. Rep. Charlie Rangel at the 31st Annual Congressional Black Caucus' Veterans Braintrust Forum. (Photo by Dr. David Atkins.)
VA researcher Dr. Donna Washington was honored with a 2019 Veterans Braintrust award from the Congressional Black Caucus. The awards were presented during the 31st Annual Veterans Braintrust Forum in Washington, D.C. on Sept. 13, 2019.
This year's awardees were selected for their outstanding service to their communities and to women Veterans.
Washington is well-known for her research on health care issues affecting minority women Veterans. She is a core VA investigator at the Health Services Research and Development Center for the Study of Healthcare Innovation, Implementation and Policy (CSHIIP).
Her research addresses the health care needs of underserved patient populations like minorities and women Veterans. Through her work, she seeks ways to improve quality of care and health care disparities for Veterans—for example, developing services to help homeless women Veterans.
Washington also co-directs the VA Advanced Fellowship in Women's Health. The fellowship trains the next generation of clinicians, educators, and researchers to improve health care for women Veterans. In addition, she is a professor of medicine at the University of California, Los Angeles.
Recently, Washington led a study that looked at the usefulness of tele-support for providers who treat women Veterans at VA community-based outpatient clinics. Many primary care providers in VA have limited experience in treating gender-specific conditions in women. The investigators delivered a series of women's health educational sessions and e-consultations via video tele-conferencing. CBOC providers who took part reported that the tele-education helped expand their knowledge of women's health issues. Ninety percent said the information would influence patient care. The study was part of a larger collection of projects that together formed the "Women Veterans Healthcare CREATE."
She was also a contributing author to a special supplement in the June 2019 issue of Women's Health Issues. The supplement, sponsored by VA's Cooperative Studies Program, focused on sex and gender differences in U.S. Veterans in their responses to medical care. Washington and colleagues reported on the stigma of obesity and how it can affect men and women Veterans differently.
Established in 1988 under the chairmanship of (Ret.) Rep. Charlie Rangel, the Veterans Braintrust serves as an advisory group for the Congressional Black Caucus, members of Congress, and Veteran Service organizations.
Each year, the Braintrust Forum discusses the unique challenges and issues that affect African American Veterans. Doing so allows the Braintrust to help craft national policies and practices to support minority Veterans. Previous participants include former U.S. Secretary of State Colin Powell and past Secretaries of VA David Shulkin, Eric Shinseki, and James Peake.