July 7, 2017
VA Nobel laureate honored by Carnegie Foundation as 'Great Immigrant'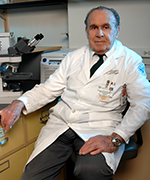 Dr. Andrew V. Schally
Dr. Andrew V. Schally, Nobel laureate and VA distinguished medical research scientist, was recognized July 4, 2017, as a "Great Immigrant" by the Carnegie Corporation of New York. The tribute honors "outstanding naturalized U.S. citizens and their contributions to American society, culture, and economy."
Schally, who is chief of the Endocrine, Polypeptide and Cancer Institute at the Miami VA Medical Center and a research scientist at the International Medicine Institute, has been active in medical research for close to 70 years.
Born in Poland in 1926, Schally survived the Holocaust in Eastern Europe by sheltering in a Jewish-Polish community in Romania. He eventually immigrated to the United Kingdom, where he finished high school and later studied chemistry in London. At age 23, Schally joined the National Institute of Medical Research in London. From there he went to study at McGill University in Canada. After receiving his doctorate, he accepted a position at Baylor University in Houston.
In 1962 Schally joined VA, setting up a lab to conduct research on the hypothalamus. In the late 1960s, he and his team demonstrated that the hypothalamus helps regulate the endocrine system. The endocrine system is a collection of glands throughout the body that secret hormones into the blood stream. Schally was able to isolate and describe the structure of luteinizing hormone-releasing hormone (LHRH), a key hormone affecting the reproductive system. It was for this work that he, along with Dr. Roger Guillemin and Dr. Rosalyn Yalow, was awarded the Nobel Prize for Physiology or Medicine in 1977.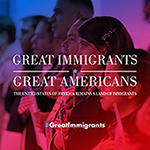 Most recently, Schally coauthored a retrospective review article on the "Discovery of LHRH and development of LHRH analogs for prostate cancer treatment," published in the June issue of Prostate. His isolation of LHRH laid the foundation for clinical care and treatment for multiple disease states in reproductive medicine, endocrinology, gastroenterology, and oncology.
"I am deeply gratified that my group has continued the work on this fascinating hormone, and with the worldwide involvement of other outstanding biologists, chemists, oncologists, and clinicians, we were able to develop three different classes of analogs of LHRH for the treatment of prostate cancer and for various applications," wrote Schally. "We may be also on the threshold of additional new discoveries on the use of LHRH analogs in other diseases or conditions."
Each year since 2006 the Carnegie Corporation, established by Scottish immigrant Andrew Carnegie, has recognized the contributions of naturalized citizens. This year, 38 individuals were honored, representing more than 30 different countries of origin. Together, "they represent a wide range of personal immigration stories and the highest level of professional leadership."
"Our annual tribute to Great Immigrants demonstrates the richness of talent, skills, and achievements that immigrants from around the world bring to every sphere of American society," said Vartan Gregorian, president of Carnegie Corporation of New York.