October 30, 2019
Dr. Ann McKee Awarded Service to America Medal for Career Achievement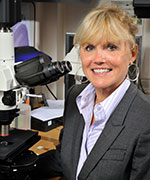 Dr. Ann McKee
VA researcher Dr. Ann McKee has been named the 2019 Winner in Career Achievement by the Partnership for Public Service. The Samuel J. Heyman Service to America Medals, or Sammies, are given annually to recognize outstanding federal service. This year, seven winners were named from a pool of 27 finalists.
McKee is chief of neuropathology at VA Boston Healthcare System and professor of neurology and pathology at Boston University School of Medicine. She is also director of the VA-BU-CLF Brain Bank, a joint endeavor between VA, Boston University, and the Concussion Legacy Foundation.
She has devoted her research career to understanding traumatic brain injury and Alzheimer's disease. In particular, she has pioneered understanding of the causes and progression of chronic traumatic encephalopathy, or CTE, a condition resulting from repeated head injuries.
"Dr. McKee's research has been the dominant force in advancing medical science regarding the long-term effects of concussion, subconcussion, and chronic traumatic encephalopathy," said Dr. Carolyn Clancy, deputy under secretary of health for the Department of Veterans Affairs. "Her work has transformed the prevailing science regarding head trauma and demonstrated that repetitive mild head trauma is not just an acute injury—it can provoke progressive neurodegeneration."
CTE is a degenerative process that occurs in the brain when a person undergoes repetitive, traumatic strikes to the head. McKee has found increasing evidence of this condition in professional athletes, and in members of the military who were deployed to combat zones and sustained blast injuries.
In fact, mild TBI is the most common brain injury affecting members of the military and is referred to as the signature injury of the wars in Iraq and Afghanistan. Studies have shown an association between CTE and repetitive, mild traumatic brain injury in military service members.
McKee has long been an advocate for servicemembers and professional contact athletes, working to promote a public dialogue about sports-related health risks. She has testified before Congressional hearings and given over 250 lectures to universities, sports leagues, and medical conferences.
Her research has called widespread attention to the alarming prevalence of CTE in professional football players. After former New England Patriots tight end Aaron Hernandez died by suicide at the age of 27, McKee discovered CTE in his brain—the most severe case of CTE she had seen in someone his age.
Her research has also demonstrated that adults are not the only ones at risk of brain injury from mild repetitive trauma. McKee has found evidence that children 6 to12 years old who play tackle football are also at risk for brain injury.
McKee has been the recipient of multiple awards recognizing her pioneering research into brain trauma and Alzheimer's disease. For example, in 2018, she was elected into the National Academy of Medicine; was awarded the Henry Wisniewski Lifetime Achievement Award in Alzheimer's Disease Research; and was named to TIME Magazine's 50 Most Influential People in Health Care.