September 7, 2017
VA researcher receives the 2017 American Legion Distinguished Service Medal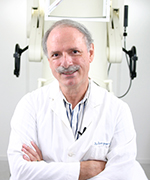 Dr. Apostolos Georgopoulos
Dr. Apostolos Georgopoulos, director of the Brain Sciences Center at the Minneapolis VA Medical Center, was awarded the American Legion Distinguished Service Medal for his work on Gulf War illness at the Legion's national convention, in Reno, Nevada. He has been active in neurological research for more than 20 years and is internationally known for his work on PTSD and Gulf War illness in Veterans.
Georgopoulos studied medicine and physiology at the University of Athens in Greece, where he earned his M.D. and Ph.D. After coming to the U.S., he studied neurophysiology at Johns Hopkins University and eventually joined the faculty, becoming professor of neuroscience in 1986.
In 1991, Georgopoulos accepted the American Legion Brain Sciences Endowed Chair at the University of Minnesota, where he has been engaged ever since in conducting brain research on PTSD, Gulf War illness, Alzheimer's disease, schizophrenia, and other neurological conditions that affect Veterans.
Using a medical imaging technique called magnetoencephalography (MEG), Georgopoulos is able to "see" inside the brains of Veterans to look for abnormal brain activity. The MEG machine records magnetic fields normally produced within the brain and takes only minutes to do its work. Fewer than 70 of these machines exist in the world, according to the Minnesota Veterans Medical Research and Education Foundation.
Gulf War illness affects roughly one-third of the Veterans who served in the Persian Gulf in 1990 to1991, according to Georgopoulos. His research into the condition suggests that different parts of the brain are not communicating correctly, possibly explaining the deficits in thinking and mood that accompany the disease.
"I'm here with rays of hope for successful treating … of Gulf War illness, a very complex and debilitating disease that affects the Veterans who served in the Persian [Gulf]," said Georgopoulos as he accepted the Distinguished Service Medal.
The Minnesota American Legion raised over $1 million to establish the Brain Sciences Endowed Chair to promote research, teaching, and training into brain diseases and disorders, said Charles E. Schmidt, the American Legion national commander.
The American Legion Distinguished Service Medal recognizes outstanding service to the nation and programs of the American Legion. Previous recipients include President George W. Bush, the U.S. Army 3rd U.S. Infantry Regiment (The Old Guard), and the Boys Scouts of America.
*Listen to Dr. Georgopoulos speak about his research involving Veterans with Gulf War illness.