November 1, 2021
Dr. Bruce Ovbiagele elected to National Academy of Medicine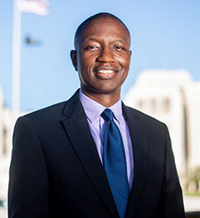 Dr. Bruce Ovbiagele, chief of staff at the San Francisco VA Health Care System, is a VA investigator currently conducting NIH-funded studies. (Photo by Noah Berger, courtesy University of California, San Francisco.)
VA researcher Dr. Bruce Ovbiagele was elected to the National Academy of Medicine (NAM) during its annual meeting on Oct. 18, 2021. Election to the academy is considered one of the highest honors in health and medicine. This honor recognizes outstanding professional achievement and commitment to service.
Ovbiagele is associate dean and chief of staff at the San Francisco VA Health Care System. He is also a professor of neurology at the University of California, San Francisco. His research focuses on the health of vulnerable populations with or at risk for stroke—groups like racial and ethnic minorities, rural populations, and military Veterans in the U.S. and Africa.
"It is my privilege to welcome this extraordinary class of new members. Their contributions to health and medicine are unmatched—they've made groundbreaking discoveries, taken bold action against social inequities, and led the response to some of the greatest public health challenges of our time," said NAM President Victor J. Dzau.
Ovbiagele was cited by the academy for "leading several pioneering National Institutes of Health-funded research programs addressing the burden of stroke in vulnerable populations in the U.S. and Africa." The academy also acknowledged his leadership in creating "transformative training initiatives targeting individuals who are underrepresented in medicine and science," like African Americans and Hispanic individuals.
Ovbiagele is principal investigator for several studies that will examine health disparities for stroke, both in the U.S. and Africa. For instance, individuals who live in the southeastern U.S.— referred to as the "stroke belt"—are twice as likely to experience a stroke as people who live in other areas of the country. Additionally, African Americans as a group are 50% more likely to experience a stroke than white individuals. Stroke risk can be modified through diet, exercise, and treatment of high blood pressure. However, studies show that fewer than a third of individuals who experience a stroke had their blood pressure under control at least 75% of the time.
To combat this problem, the Program to Avoid Cerebrovascular Events Through Systematic Electronic Tracking and Tailoring of an Eminent Risk-factor (PACESETTER) implementation trial seeks to improve racial and rural-urban disparities in stroke care for U.S. residents. Ovbiagele and his team aim to harness mobile health technology to improve blood pressure control and reduce hospitalizations for stroke patients treated in South Carolina—at least half of whom will be African American. Study participants at three safety-net hospitals will receive either personalized text messaging and home blood pressure monitoring, or usual care for stroke and hypertension. The trial is scheduled to end in early 2022.
Dr. Ovbiagele is an elected fellow of the Royal College of Physicians, American Academy of Neurology, American Neurological Association, American Heart Association Stroke Council, American Association of Physician Leadership, and the European Stroke Organization. He is also a fellow of the AAMC Council of Deans.
"I am, and have always been, committed to discovering new and innovative ways to ensure that health and wellness are not dependent on one's race, ethnicity, geographic, or socioeconomic status," says Ovbiagele. "This recognition by the National Academy of Medicine is a tremendous privilege and a meaningful validation of the efforts of my team to address health disparities here and abroad."
*Listen to Dr. Bruce Ovbiagele as he discusses stroke awareness on All Things Men.