August 3, 2015
Magnuson winner Dr. Charles Levy known for compassionate, innovative rehab care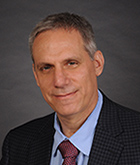 Dr. Charles Levy
Dr. Charles Levy, recipient of the 2015 Magnuson Award—the highest honor given to investigators by VA Rehabilitation Research and Development—has been called a "fierce advocate" for disabled Veterans, an "exemplary physician," a "longtime innovator."
One colleague called him "an outstanding person, with empathy and skill in the clinic, with intelligence and rigor in research, and with patience and thoughtfulness in mentoring."
Levy is chief of physical medicine and rehabilitation at the North Florida/South George Veterans Health System, and site co-director of the Center of Innovation on Disability Rehabilitation Research, which is sponsored by VA Health Services Research and Development.
The award is named for Paul B. Magnuson, a bone and joint surgeon who was a key figure in the expansion of the VA research program after World War II. He was known for his dedication to finding new treatments and devices to help Veterans cope with their disabilities, and, as he expressed it, to restoring each patient to "his family, his job, and his life."
By all accounts, Levy is "cut from the same cloth," as one of his colleagues put it.
Advancing power mobility and telehealth
Since joining VA in 1999, Levy has been ahead of the curve in rehab care. Or more accurately, he's pushed the curve forward for others. Among his first accomplishments was spearheading advances in power mobility—new standards and new studies, eventually leading to new ways of assessing patients and new policies in and outside VA. "Based on the available research and the principles of empowerment and inclusion, power mobility became more available to those who could benefit most," says Levy.
Telehealth, particularly outreach to rural Veterans with disabilities, became another key area for Levy. The Low Activities of Daily Living Program, started by his group in 2002, became one of VA's early success stories in telehealth, connecting Veterans and rehab providers through an in-home messaging system and Internet-based communication.
Then in 2009 Levy launched the Rural Veterans Telerehabilitation Initiative (RVTRI), which he still directs. Funded in part by VA's Office of Rural Health, it uses live video to deliver virtual rehab services into Veterans' homes: everything from physiatric care to physical, occupational, speech, recreational and creative-arts therapy. Creative arts have a special place in Levy's treatment repertoire: He is a state champion fiddler and banjo player, and he says he "delights in sharing" his musical talents on hospital units and in patient rooms at the Gainesville VA.
The RVTRI earned recognition in the VHA Systems Redesign Champion Awards in 2011. It has inspired similar projects in other VA regions, with Levy mentoring colleagues at those sites.
Retired Army Capt. Jonathan Pruden, who was severely injured by an IED in Iraq in 2003, went on to become a patient and eventually a friend of Levy's. Now, Pruden is a regional director with the Wounded Warrior Project. He says about Levy's pioneering telehealth initiative:
"My work with [the Wounded Warrior Project] has allowed me to see the significance firsthand of the value of the RVTRI. I have seen the RVTRI deliver ongoing physiatric care to a veteran with PTSD not only when he was at home, but also when he was on the road as his job in construction demanded....I have seen RVTRI deliver speech therapy to a veteran with spinocerebellar atrophy who lives hundreds of miles away from the main medical center. He has made significant gains [in his communication and swallowing], lifting his spirits despite his awful disease."
Virtual reality as a rehab tool
Pruden has since become a consultant on a project of Levy's called Virtual Environments for Therapeutic Solutions, or VETS. The work, funded by VA Rehabilitation R&D, involves building a virtual reality grocery store, dubbed "V-Mart," to help assess and treat cognitive and emotional issues stemming from PTSD or traumatic brain injury (TBI).
A team of researchers, therapists, computer scientists, and engineers is developing the application. Levy describes it in more detail:
"The Veteran and therapist each access V-Mart on the Web, from their own personal computers. This allows the Veteran to practice real-life daily tasks in a realistic store simulation, with active therapist supervision. Thinking skills such as memory and concentration can be probed and practiced while the Veteran navigates the store, searching for and comparing groceries. Calculation and budgeting skills are measured and practiced when the Veteran opens a virtual wallet and buys items. Emotional control can be practiced as the Veteran is confronted by rude cashiers, cart collisions, and other store encounters. The therapist, connected to the Veteran by a webcam, not only controls which tasks will be attempted, but also the interactive dialogue and actions of the virtual people the Veteran encounters."
Levy adds, "When the Veteran speaks to these virtual humans, the therapist is able to choose appropriate verbal replies given by the character—the cashier, clerk, or other shopper. The scenarios are chosen and directed by the therapist."
Pruden is a big fan of the app: "I know hundreds of combat Veterans who withdraw into their homes to avoid the noise and clatter of public life," he says. "VETS offers a novel and practical way to help draw the wounded warriors back into the world."
Levy testified before Congress in 2010 as an expert on "virtual world environments and virtual humans" as a tool for transforming care for Veterans with PTSD or TBI.
Expertise in rare bone disorder
He is also recognized as the world's top expert on rehab care for a rare genetic condition called fibrodysplasia ossificans progressiva (FOP). For patients, the long Latin name translates, simply, into "hell." Bone grows in the body where it's not supposed to, forming, in essence, an extra skeleton. The genetic condition is extremely rare—affecting only one person in two million—but it is painfully disabling. Levy says it's a "catastrophic and devastating musculoskeletal disease."
He volunteers his time and skill to help patients with FOP from around the world on the phone or via email. Levy also speaks and does assessments at conferences. He specializes in seating: finding the right wheelchair or other rehabilitation devices to allow for maximum mobility and independence, without causing pain or aggravating the underlying bone or muscle problems.
Dr. Frederick Kaplan, a University of Pennsylvania expert who discovered the genetic cause of the disease, credits Levy with spurring his discoveries, and helping to establish a comprehensive approach to the disease. Kaplan calls the approach "molecules to movement," and he expects it to eventually lead to new therapies. "I can't overemphasize the strategic importance of Dr. Levy in the seminal conception and translation of this work," he wrote. Kaplan adds that many seriously injured combat Veterans experience similar abnormal bone growth, which can complicate rehab, and Levy has come up with creative ways to help these patients.
Established in 1998 by VA Rehabilitation Research and Development, the Magnuson Award consists of a plaque, a one-time award of $5,000, and $50,000 per year for up to three years to supplement ongoing peer-reviewed research.