March 20, 2019
VA Outreach on Colorectal Cancer Screening Recognized by ACG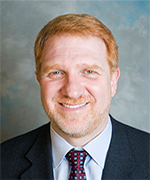 Dr. Jason A. Dominitz
VA researchers Drs. Jason A. Dominitz and Douglas J. Robertson received the 2018 SCOPY Award from the American College of Gastroenterology, on behalf of the Veterans Health Administration.
The SCOPY Awards are given each year to recognize outstanding efforts to educate the public on the importance of colorectal cancer prevention. SCOPY stands for "Service Award for Colorectal Cancer Outreach, Prevention and Year-Round Excellence."
The investigators were recognized for the "Most Far-Reaching and Impactful Initiative." They collaborated on a VA radio media tour—a series of interviews on multiple radio shows nationwide—focused on the importance of colorectal cancer screening. The radio programs reached nearly 25 million listeners in the U.S.
Dominitz is the national director of gastroenterology for the VHA. He is also acting chief of gastroenterology for the VA Puget Sound Health Care System and a professor of gastroenterology at the University of Washington in Seattle.
Douglas is a physician and researcher at the White River Junction VA Medical Center in Vermont, and a professor of medicine at the Geisel School of Medicine at Dartmouth.
The researchers are co-chairs for a large 10-year clinical trial called Colonoscopy Versus Fecal Immunochemical Test in Reducing Mortality from Colorectal Cancer. CONFIRM is a randomized trial that will compare screening colonoscopy to annual FIT testing in Veterans with an average risk of developing colorectal cancer. While both are considered effective ways to screen for colorectal cancer, the best approach is not yet clear.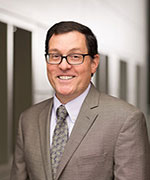 Dr. Douglas J. Robertson
The CONFIRM trial is the largest VA clinical trial to date, having enrolled more than 50,000 Veterans at nearly 50 clinical sites.
Twenty-four SCOPY awards were given to recognize outreach tactics that ranged from "The Best Bowel Prep Video" to "Best Social Media Impact for a Coordinated Colorectal Cancer Awareness Campaign."
The 2018 SCOPY winners "demonstrated a relentless commitment to community service, a penchant for witty taglines, and a focus on quality and public health interventions," said Dr. Sophie M. Balzor, Chair of the ACG Public Relations Committee, in a press release.
The winners were honored at the SCOPY Awards Ceremony and Workshop in October 2018 at the Pennsylvania Convention Center in Philadelphia.