February 21, 2018
VA Researcher Receives DAV Special Recognition Award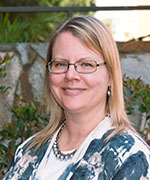 Dr. Elizabeth Yano
Dr. Elizabeth Yano was honored with the Disabled American Veterans' Special Recognition Award for her extensive research and work on behalf of the nation's women Veterans.
"This award recognizes Dr. Yano's stellar leadership in developing and managing a robust and comprehensive research portfolio focusing on women Veterans," said Delphine Metcalf-Foster, DAV national commander. Through her efforts to mentor and train researchers who are interested in women's health, she "has effected positive change for the health and well-being of our nation's women Veterans," Metcalf-Foster added.
Yano is a VA senior research career scientist and director of the HSR&D Center for the Study of Health Innovation, Implementation and Policy (CSHIIP) at the VA Greater Los Angeles Healthcare System. She is also an adjunct professor at the UCLA Fielding School of Public Health.
Yano, an epidemiologist and health policy researcher, is a prolific investigator. In addition to the roles mentioned above, she also directs the HSR&D's Women's Health CREATE, "Accelerating Implementation of Comprehensive Women's Health Care." The CREATE is a group of five interrelated studies that together received $4.5 million in funding from VA. Together with her co-investigators, Yano is seeking the most effective ways to provide health care for women Veterans enrolled in the VA health care system and to attract those who are not.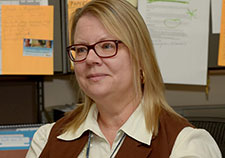 Dr. Elizabeth Yano is director of the HSR&D Center for the Study of Health Innovation, Implementation and Policy at the VA Greater Los Angeles Healthcare System. (Photo by Paula Berger)
Yano is also the principal investigator for the Women's Health Services Partnered Evaluation Center, part of VA's Quality Enhancement Research Initiative (QUERI). She and her colleagues are investigating the value of evidence-based programs in improving the quality of women's health care in VA.
Women are the fastest-growing segment of Veterans in the U.S.—accounting for nearly 10 percent of the total Veteran population in 2018. They are projected to account for 14 percent of the Veteran population in 2025, and nearly 18 percent in 2040. They have health care needs that can be significantly different from those of their male counterparts. Yano and her colleagues are seeking to better understand those needs by conducting targeted research and encouraging other researchers within VA to enter the field of women's health.
To that end, Yano is the principal investigator and co-founder of the Women's Health Research Network, which was created in 2010 to promote research that focuses on the unique needs of women Veterans. It consists of two parts: The Women's Health Research Consortium and the Women's Health Practice-Based Research Network (PBRN).
While the consortium was created to boost training for women's health researchers, the PBRN's goal was to build infrastructure and draw together a community of clinicians and women's health researchers. The aim of the program is to make it easier to conduct large, multisite clinical and quality improvement studies that focus on women's health or include women so they may equitably benefit from research findings.
"VA is an incubator of ideas," Yano told VA Research Currents in 2014. "Most researchers just hope someone notices their work, but [in VA] we have the capacity to transform our evidence-based practice into evidence-based policy."
*Listen as Dr. Yano discusses the state of women's health research in VA. To find out more about the Women's Health Practice-Based Research Network read "Expanding the focus on women Veterans."