May 19, 2017
Internationally recognized VA investigator receives Under Secretary's Award in Health Services Research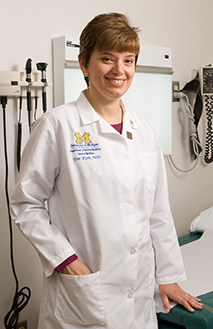 Dr. Eve A. Kerr
Dr. Eve A. Kerr, a physician researcher with the VA Ann Arbor Healthcare System, has received the 2016 Under Secretary's Award for Outstanding Achievement in Health Services Research. It is the highest honor that VA's Health Services Research and Development (HSR&D) bestows.
Kerr is the director of the HSR&D Center for Clinical Management Research at the VA Ann Arbor Healthcare System in Michigan and a professor of internal medicine at the University of Michigan. She has spent her career working to improve quality of care for Veterans by conducting research to develop new performance improvement measures and clinical care guidelines.
She is well-known, both in this country and internationally, for her work to develop innovative methods to assess and improve quality of patient care. Kerr was the senior author on an important study published in 2003 in the New England Journal of Medicine that pointed to large deficits in quality of care in the United States. That study has been cited over 2,000 times in other medical articles.
She and her team also published a significant study in JAMA in 2015 that found many physicians fail to reduce blood pressure or blood sugar medication in older adults who experience very low levels of hemoglobin A1C or blood pressure in response to the medication. This work led Kerr to develop new clinical action measures for cholesterol and blood pressure treatment that have been utilized throughout the VA.
In all Kerr has authored or coauthored more than 100 peer-reviewed papers.
As a steward for performance-improvement measures, Kerr serves as chair for the American College of Physicians' Committee on Performance Measurement. She is also a steering committee member of Choosing Wisely International—an organization devoted to reducing unnecessary clinical tests—and a member of the Health Systems Advisory Panel for the Patient Centered Outcomes Research Institute (PCORI). Her work on new clinical performance measures has been endorsed by VA, the National Committee for Quality Assurance (NCQA), the American Diabetes Association, and the United Kingdom National Health Service.
"This award, inaugurated in 1998, signifies the maturation of the field of health services research and its important role in improving Veterans' Healthcare. The Under Secretary's Award recognizes the recipient's substantial contributions to improving the quality of VA Healthcare, their role as a mentor and inspiration to new researchers, and their prominence as a national leader who brings credit to VA's research enterprise," said Dr. David Atkins, director of HSR&D.
The award will be presented by Acting Under Secretary for Health, Dr. Poonam Alaigh, at the HSR&D National Meeting held in July or August 2017. It encompasses a one-time cash award of $5,000 and $50,000 a year, for up to three years, to augment ongoing research.
* Listen to Dr. Kerr speak about her research on performance measurement and quality improvement.
*Read an op-ed in the Harvard Business Review that Dr. Kerr co-authored on stopping overconsumption of Healthcare.