July 31, 2017
Dr. Frank Lederle Receives 2017 Barnwell Award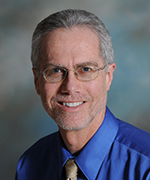 Dr. Frank A. Lederle
Clinical research scientist Dr. Frank A. Lederle has been selected to receive the 2017 John B. Barnwell Award. It is the VA Clinical Science Research and Development Service's highest honor. The award is given to senior VA investigators in recognition of outstanding contributions to clinical research that ultimately benefit the health of U.S. Veterans and others.
Lederle, a core investigator for the Center for Chronic Disease Outcomes Research at the Minneapolis VA Health Care System, is noted for his seminal work on surgical management and treatment for patients who have abdominal aortic aneurysms (AAA), a condition in which a major blood vessel in the body becomes so enlarged that it weakens, which can lead to rupture and possibly death.
Lederle, past director of the Minneapolis VA Center for Epidemiology and Clinical Research, has served in leading roles in 11 clinical trials and as principle investigator for six of these. Most of his work pertains to the diagnosis, medical management, and surgical outcomes of AAA treatment, and has established him as a leader in the field.
Sponsored by VA's Cooperative Studies Program, The Aneurysm Detection and Management (ADAM) Trial, led by Lederle, established the worldwide threshold for surgical repair of abdominal aneurysms. The investigators compared the effectiveness and safety of immediate surgery to that of ultrasound surveillance in 1,136 asymptomatic Veterans aged 50 to 79, at 16 participating VA medical centers, whose aneurysms measured 4.0 cm to 5.4 cm in diameter. The article was published in May 2002 in the New England Journal of Medicine and showed that repair of AAA smaller than 5.5 cm did not improve survival.
Lederle's work, together with a similar study in Britain, helped change the American Heart Association's and the Society for Vascular Surgery's treatment guidelines for AAA. The change should reduce the number of patients who undergo elective surgical treatment by 20 percent, which translates to 8,000 patients in the U.S. each year who are spared potentially unnecessary surgery for AAA.
The ADAM study also included an ultrasound screening program of 126,000 veterans that detected 5,000 AAAs and determined disease prevalence and risk factors, and discovered a previously unknown negative association of AAA with diabetes.
In another VA cooperative study led by Lederle, the VA Open Versus Endovascular Repair (OVER) trial for AAA, 881 Veterans in need of AAA repair were randomized to open vs. endovascular procedures. This study, published in the New England Journal of Medicine in 2012, showed that endovascular repair reduced mortality for three years post-operatively, and in younger patients this effect persisted to the end of the study.
"Dr. Lederle's scientific leadership and his commitment to improving health care for Veterans are clearly reflected in his outcomes-based clinical trials that have changed clinical practice for millions of patients," noted the Barnwell Award selection committee.
Lederle will receive $50,000 each year, for three years, to further his research, along with a cash award of $5,000.
*Read about Dr. Lederle's innovative point-of-care research on the effectiveness of two common blood pressure medications.