February 24, 2017
Dr. Kathryn M. Magruder honored by Vietnam Veterans of America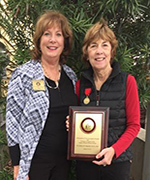 Dr. Kathryn M. Magruder (right) was awarded the Vietnam Veterans of America Achievement Medal for her research on health outcomes for women Vietnam-era Veterans. (Photo courtesy: VVA)
Dr. Kathryn M. Magruder has been recognized for her work on health outcomes for women Vietnam-era Veterans by the Vietnam Veterans of America (VVA). Magruder, an epidemiologist at the Ralph H. Johnson VA Medical Center, in Charleston, South Carolina, was awarded the VVA Achievement Medal for research that examined the long-term health effects on women who served overseas during the Vietnam War.
Magruder, who is associate professor at the Medical University of South Carolina, was co-chair for a VA Cooperative Studies Program that followed the health outcomes of approximately 12,000 U.S. women who served in the military in Vietnam, other nearby countries, or the U.S. during the Vietnam era. The retrospective study (built on earlier VA research) followed these women for a total of 40 years, using data from death certificates and the National Death Index to quantify causes of mortality.
While all three groups of women Veterans had a lower mortality risk overall when compared to similar U.S. women, the Vietnam and non-deployed groups experienced greater rates of death from motor vehicle accidents. More than two-thirds of the women Veterans in the study were military nurses. Nurses in the Vietnam group had a twofold greater risk of pancreatic cancer death and nearly a fivefold greater risk of brain cancer death, when compared with nurses in the non-deployed group.
While women Veterans were not typically exposed to hazards like herbicides or direct combat, said the researchers, "other environmental exposures in Vietnam could be a particular concern for women. Most prominent are the physical and psychological stresses associated with military nursing ..." They went on to say many women volunteered to serve in Vietnam within a year of enlisting in the military and were unprepared for managing large numbers of combat casualties.
The CSP study, "HealthViEWS: Mortality Study of Female U.S. Vietnam Era Veterans, 1965-2010," was published in the American Journal of Epidemiology, and is the largest study to date on the health of Vietnam-Era women Veterans.
Vietnam Veterans of America, Inc., is a national non-profit corporation founded in 1978. VVA is chartered by the United States Congress and is dedicated to Vietnam Veterans and their families.