July 5, 2017
VA research scientist receives prestigious Charles C. Shepard Science Award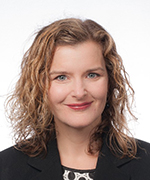 Dr. Katie Suda
Dr. Katie Suda, a research scientist with the Edward Hines, Jr. VA Hospital, and her colleagues have received the Centers for Disease Control and Prevention's Charles C. Shepard Science Award for their research article on inappropriate antibiotic use in the U.S.
The research team—a collaboration between the CDC, Pew Charitable Trusts, and national antibiotic stewardship experts—published their review of antibiotic overuse in the May 2016 issue of JAMA. Suda was the sole pharmacist and VA investigator on the team.
The article, "Prevalence of Inappropriate Antibiotic Prescriptions Among U.S. Ambulatory Care Visits, 2010-2011," was the first of its kind to estimate the number of unnecessary outpatient antibiotic prescriptions in the United States. It garnered over 19,000 page views on the JAMA website and has been featured in over 190 news stories.
"Antibiotic use is the primary driver of antibiotic resistance and leads to adverse events ranging from allergic reactions to clostridium difficile infections," wrote the study authors. They went on to say that antibiotic-resistant infections affect 2 million people in the U.S. and cause 23,000 deaths annually.
Using data from the CDC's National Center for Health Statistics, the team estimated that 30 percent of antibiotics prescribed in an outpatient setting were unnecessary, representing 47 million unnecessary antibiotic prescriptions annually in the U.S.
The top three diagnoses most associated with antibiotic use in the study were sinus infections, draining ear infections, and sore throats. However, the study authors said, these conditions most often do not require antibiotics. For example, treating a sore throat with antibiotics is indicated only when the cause is a streptococcus infection, according to medical guidelines. Yet of the 72 percent of adults prescribed antibiotics for a sore throat, only 18 percent test positive for strep, according to recent literature.
Suda, who is an investigator with the VA Center of Innovation for Complex Chronic Healthcare and a research associate professor at University of Illinois, Chicago College of Pharmacy, says appropriate antibiotic use can improve patient safety and reduce antibiotic resistance.
The first step, she says, is to set guidelines for health care providers. "This paper sets a clear metric and national goal for public health to combat antibiotic resistance by working to eliminate unnecessary antibiotic prescriptions in outpatient health care."
Established in 1986, the Charles C. Shepard Science Award was named in honor of Dr. Charles C. Shepard, an internationally recognized microbiologist who was chief of the Leprosy and Rickettsia Branch at CDC for more than 30 years. The award is presented to the best manuscript on original research published by a CDC or Agency for Toxic Substances and Disease Registry scientist in a reputable, peer-reviewed journal.
* Watch a VIDEO of Dr. Suda discussing the need to reduce antibiotic use in outpatient settings.