July 18, 2018
VA researcher Dr. Laura A. Petersen receives prestigious Under Secretary's Award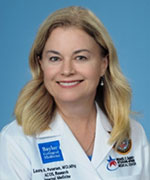 Dr. Laura A. Petersen, Director, Center for Innovations in Quality, Effectiveness and Safety
Dr. Laura A. Petersen, director of the VA Center for Innovations in Quality, Effectiveness and Safety (iQuEST) in Houston, has been awarded the 2017 Under Secretary's Award for Outstanding Achievement in Health Services Research. The award, which is considered to be one of the highest honors within the VA research community, recognizes outstanding leadership and research efforts in the field of health services.
Petersen, associate chief of staff for research at the Michael E. DeBakey VA Medical Center in Houston, is known for her contributions to the field of quality improvement in patient care. She has been instrumental in research that has led to better patient outcomes within the VA health care system. Past quality initiatives spearheaded by Petersen include assessing the effects of limiting medical residency work hours, comparing patient care within VA to Medicare fee-for-service care, and investigating the effects of pay-for-performance programs on minority patients.
Throughout her career, Petersen has received 48 research funding awards from agencies that include the National Institutes of Health, the American Heart Association, and the Robert Wood Johnson Foundation.
She is also a prolific author, having published over 150 articles in premier scientific and medical journals like the New England Journal of Medicine and JAMA. One recent study she led compared the effectiveness of nurse practitioners and physician assistants in managing diabetes and cardiovascular disease in Veterans. The study examined more than 200,000 Veterans at 130 VA health care facilities, and found no difference between care given by NPs or PAs. VA has been a leader in giving advanced practice NPs full-practice authority to act as primary caregivers to help alleviate the physician shortage.
As director of the iQuEST center of innovation, Petersen is committed to mentoring future research scientists—emphasizing diversity in race and gender. The center's faculty is currently made up of nearly 70 percent women and minorities. Petersen herself mentors five iQuEST faculty members, and numerous medical students and fellows.
iQuEST is a collaboration between VA and Baylor College of Medicine, where Petersen is a professor of health services research. In an overview message on the iQuEST website Petersen says, "[The center] conducts high-quality scientific research that improves the health of Veterans and patients across the nation, by helping to ensure the patient-centered delivery of scientific discoveries."