February 22, 2016
Harkness identified as "notable who made a difference in 2015"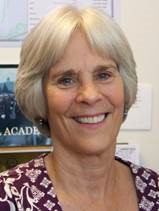 Dr. Laurie Harkness
Dr. Laurie Harkness, founder and director of the VA Connecticut Healthcare System's Errera Community Care Center in West Haven, was cited by the New Haven Register as one of five people who made notable contributions in the greater New Haven area in 2015 and beyond.
Harkness' center provides stable community living for more than 300 Veterans; vocational support for more than 500 Veterans; and housing for more than 250 Veterans and their families.
The center has been repeatedly commended for its care of Veterans with mental illness and has been designated as a model for psychosocial rehabilitation and recovery services within VHA VISN 1.
Harkness has published extensively on her research in the areas of PTSD and psychosocial resources, and was the first non-physician and first VA employee to be honored with the "Excellence in Community Mental Health Services" award from the National Alliance on Mental Illness.