May 30, 2017
A Syracuse VA researcher recognized for contributions to neuroscience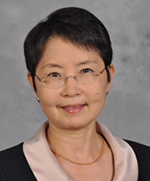 Dr. Li-Ru Zhao
Dr. Li-Ru Zhao, a researcher with the Syracuse VA Medical Center in New York, was awarded the 2017 Bernard Sanberg Memorial Award from the American Society of Neural Therapy and Repair (ASNTR) for her work in traumatic brain injury (TBI) and neurodegenerative disease.
Zhao, also an associate professor of neurosurgery at State University of New York Upstate Medical University, has made significant contributions to the understanding of acute and chronic stroke, vascular dementia, TBI, and Alzheimer's disease.
She has a special interest in developing new therapies to treat stroke, Alzheimer's disease, CADASIL disease—a rare genetic condition that is the most common form of hereditary stroke disorder—and TBI. Her work seeks to use molecular biology, microsurgery, live brain imaging, and flow cytometry, among other technologies, to promote repair within the brain after it has been damaged.
Some of Zhao's significant research contributions include:
the first demonstration that certain cellular growth factors, like stem cell factor (SCF), can protect nerve cells after acute and chronic stroke;
insight into the role of bone marrow-derived white blood cells in potentially clearing the amyloid plaques present in Alzheimer's disease; and
the discovery that there are significantly fewer neural stem cells in patients with CADASIL disease—opposed to healthy patients.
"Dr. Zhao's studies have significantly advanced our understanding about the contribution of SCF and G-SCF in slowing the progression of Alzheimer's disease," said Dr. Barry J. Hoffer, scientist emeritus at the National Institutes of Health, in an ASNTR press release.
Most recently, Zhao has received funding to investigate the use of hematopoietic growth factors—natural substances that help promote blood cell growth—to aid in healing traumatic brain injury.