July 10, 2015
Caregiving expert Dr. Linda Nichols named fellow in Gerontological Society of America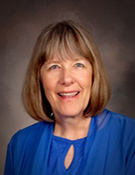 Linda Nichols, Ph.D.
The Gerontological Society of America has named Linda Nichols, Ph.D., one of its 2015 fellows.
Nichols is a co-director, with Dr. Jennifer Martindale-Adams, of the Caregiver Center at the Memphis VA Medical Center. She is also a professor in the department of preventive medicine at the University of Tennessee Health Science Center.
For more than 20 years, Nichols has worked to improve the lives of caregivers of older adults. She played a leading role in the nationwide implementation in VA of a program called Resources for Enhancing All Caregivers Health (REACH). The program, which offers in-person and telephone support and other resources, grew out of a National Institutes of Health initiative. It initially focused on Alzheimer's caregivers and later expanded to help caregivers in other situations.
"Risk priority assessment is the most innovative part of REACH and REACH VA," said Nichols. "Targeting the interven­tion to the caregiver's needs and not just to the behavior problems of the patient helps to individualize the program and to focus on high-risk areas first."
GSA fellowship is an acknowledgement of outstanding work in gerontology, including research, teaching, administration, public service, practice and participation in the organization. Fifty-eight fellows were selected and will be honored at the society's annual scientific meeting in November in Orlando.
"It makes me feel like I have done good work," said Nichols. "That's what it's all about—doing good things and doing things that really matter for people."
She added: "We couldn't exist as a society without family caregiving. The value of family caregiving is more than the amount of money we spend on formal home care and nursing home care."
Nichols, Martindale-Adams, and their colleague Dr. Robert Burns, MD, a professor in the UTHSC department of preventive medicine, are now training others across the country to help caregivers cope. "I think we have raised the profile of caregiving," said Nichols. "We have given clinicians tools to work with caregivers."
Last fall, Nichols was selected to serve on the Institute of Medicine's Family Caregiving Committee, which makes national recommendations on policy regarding family caregivers of older adults.