March 24, 2016
VA investigator receives 2016 Eisenberg Award from Society of General Internal Medicine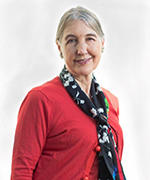 Lisa V. Rubenstein, M.D., M.S.P.H.
Lisa V. Rubenstein, M.D., M.S.P.H., will receive the 2016 John M. Eisenberg National Award for Career Achievement in Research from the Society of General Internal Medicine at the group's annual meeting in May.
This award recognizes a senior member of the society whose innovative research has changed how doctors care for patients, how they conduct research, and how medical students are educated.
Rubenstein has an international reputation for her work on studying, implementing, and spreading new care models.
She directs the VISN 22 PACT Demonstration Laboratory, the Care Coordination QUERI Program, and the VA Quality Scholars Program.
She is also associate director of VA's Health Services Research and Development (HSR&D) Center for the Study of Healthcare Innovation, Implementation and Policy, based at the VA Greater Los Angeles Healthcare System.
Her studies on PACTs, or patient-aligned care teams, have been instrumental in VA' shift to this new model of primary care, which began in 2010. She has led numerous studies on the model and its impact on Veteran patients and VA staff.
For example, in March 2015, her team published a study in the journal Medical Care on emotional exhaustion among primary care clinicians and other staff who were involved in the transition. Among other findings, the team highlighted the need to involve staff in decision-making, as one way to help prevent emotional exhaustion.
An internationally recognized health services researcher and implementation scientist focused, Rubenstein was the founding director of the Center for the Study of Healthcare Provider Behavior, an HSR&D center of excellence from 1994 to 2012.
Rubenstein also conducted seminal work in the measurement of depression care quality. Also, her research on collaborative models of depression care led to the integration of primary care and mental health care within the entire VA system.