January 15, 2021
VA researcher Anant Madabhushi inducted into National Academy of Inventors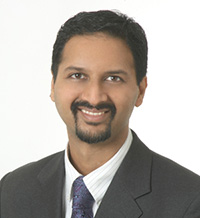 Anant Madabhushi, Ph.D.
Anant Madabhushi, Ph.D., is a research investigator at the Cleveland FES Center. He is also a biomedical engineer at the Louis W. Stokes Cleveland VA Medical Center and was recently named a fellow of the National Academy of Inventors (NAI). The 2020 class of fellows will be inducted during the NAI 10th annual meeting on June 8, 2021, in Tampa, Florida.
The NAI Fellows Program highlights academic inventors who have demonstrated a "spirit of innovation in creating or facilitating outstanding inventions that have made a tangible impact on … the welfare of society."
Madabhushi is also a professor at the Case Western Reserve University (CWRU) School of Medicine. He is director of the school's center for computational imaging and personalized diagnostics. His work on "Smart Imaging Computers for Identifying lung cancer patients who need chemotherapy" was celebrated by Prevention Magazine as one of the top 10 medical breakthroughs of 2018.
He has authored more than 400 peer-reviewed publications. Madabhushi holds more than 100 patents in artificial intelligence, medical image analysis, and computational pathology, among other disciplines. He started two companies and has had 16 of his technologies licensed, one of which has received FDA approval.
"This (nomination) is really a testimony to the amazing work ongoing by our students, post-doctoral fellows and scientists," said Madabhushi. "We are pushing the boundaries of what artificial intelligence can do for precision medicine. I am honored by the recognition and acknowledgement of our endeavors."
Madabhushi and his colleagues are now working to create technologies that can mine information from large data sets, like VA's electronic health record system. His work in pattern recognition, computer-aided diagnosis, and quantitative image analysis has improved diagnostic accuracy across different cancer types.
"For me, what is really keen is being able to develop cutting-edge, innovative, exciting technologies and tools in the lab and then getting that from the proverbial bench to the bedside. We can translate a lot of these technologies fairly rapidly," he recently told Crain's Cleveland Business.
The dean of CWRU school of engineering, Jeffrey Duerk, said, "Much of imaging is visual interpretation by a radiologist. Anant is bringing disparate information and allowing the computer to help guide the decision making … It adds a new dimension, an exciting dimension, to what you would do with those images."
Madabhushi is a Wallace H. Coulter Fellow, a Fellow of the American Institute of Medical and Biological Engineering (AIMBE), and a Fellow of the Institute for Electrical and Electronic Engineers (IEEE).
The Cleveland FES Center is a consortium of five nationally recognized institutions: Louis Stokes Cleveland VA Medical Center, MetroHealth Medical Center, Case Western Reserve University, University Hospitals of Cleveland, and the Cleveland Clinic Neurological Institute.