June 12, 2019
APTA honors Dr. Michael Harris-Love with New Investigator Award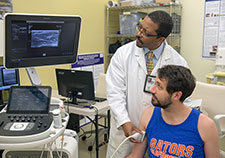 Dr. Michael Harris-Love and Mr. Brian Hoover (a member of Harris-Love's lab) demonstrate the use of ultrasound to detect sarcopenia. (Photo by Andrew White)
Dr. Michael Harris-Love, a VA research scientist, was awarded the 2019 Eugene Michels New Investigator Award by the American Physical Therapy Association.
He and other honorees will be recognized at the APTA National Award Ceremony in Chicago on June 13, 2019.
The New Investigator Award acknowledges outstanding contributions by physical therapists early in their careers in rehabilitation research. To be considered, the research must have a positive impact on the practice and teaching of physical rehabilitation.
Harris-Love is associate director of the Human Performance Research Unit at the Washington DC VA Medical Center and a clinical investigator in geriatrics. His research focuses on methods to assess and treat sarcopenia—the gradual loss of muscle mass and strength due to aging.
He is also an associate clinical professor at the George Washington University in Washington, D.C. His research has been funded in part by a VA Rehabilitation Research and Development Career Development Award sponsored through the VA Historically Black Colleges and Universities (HCBU) Training Program.
One of the tools that Harris-Love created to assess sarcopenia is the Adult Myopathy Assessment Tool. AMAT is a standardized tool that can be used to judge physical function in older people. It is currently being employed as a clinical measure in several NIH clinical trials.
Another modality that Harris-Love has developed to screen for muscle loss in older patients is point-of-care ultrasound—meaning the provider tests the patient right in the office during his or her appointment.
There are several advantages in using ultrasound to screen for muscle health. Ultrasound is typically less expensive than more traditional tools like DXA scans or CT scans. And it can tell the provider more about the quality of muscle tissue inside the patient.
"We want to look at muscle health in a way that is less costly, more efficient, and more comprehensive," said Harris-Love in an interview with VA Research Currents. Ultrasound may be the answer.
*To find out more about Dr. Harris-Love's work to detect and treat sarcopenia read "Muscling in on Muscle Loss."