November 7, 2016
Two VA researchers recognized by American College of Rheumatology
Dr. John D. Mountz
Two researchers from the Birmingham (Alabama) VA Medical Center have been recognized by the American College of Rheumatology (ACR).
Dr. John D. Mountz received the 2016 ACR Distinguished Basic Investigator Award, a one-time, merit-based award given each year to a scientist making outstanding contributions to rheumatology. Mountz focuses on the link between the body's autoimmune system and aging. He has also worked on lupus, arthritis, molecular nuclear imaging, the immune response to virus and poxvirus, and gene therapy for rheumatologic diseases.
Dr. Jasvinder A. Singh is the recipient of the 2016 ACR Henry Kunkel Young Investigator Award, which honors a young physician scientist, age 45 or younger, who has made outstanding and promising independent contributions to basic or clinical research in rheumatology. Singh works to develop and test treatments for rheumatic diseases, including rheumatoid arthritis. He is also studying patient-reported outcomes in various forms of arthritis, in particular osteoarthritis, joint replacement, and gout; and the comparative effectiveness of treatments for gout and joint replacement.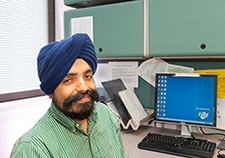 Dr. Jasvinder A. Singh (Photo by Joe De Sciose)
Both investigators are funded by VA and the National Institutes of Health for their studies on the mechanisms of rheumatologic diseases. They will be honored at ACR's Annual Session, to be held in Washington, D.C., in November 2016.