August 20, 2015
Raymond Schinazi, drug-development pioneer, earns VA's highest honor for biomedical research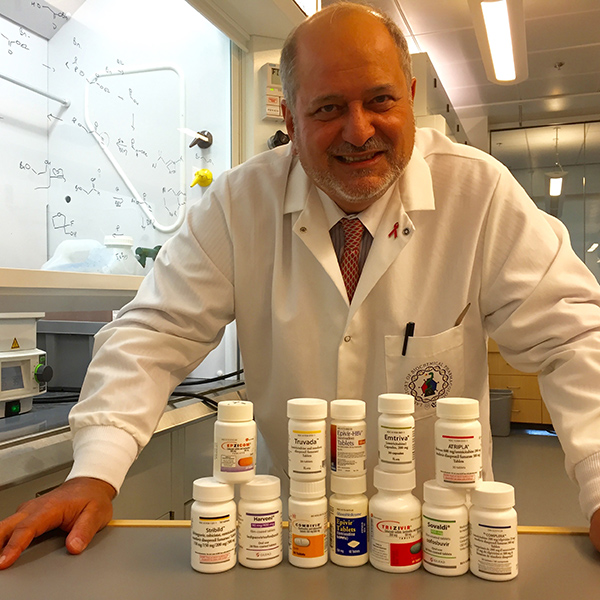 Dr. Raymond Schinazi
(Photo by Jaime Robards/Emory University)
Dr. Raymond F. Schinazi, a senior research career scientist at the Atlanta VA Medical Center and an investigator in the Center for AIDS Research at Emory University, received the 2015 William S. Middleton Award from VA for his pioneering work in discovering drug treatments for infectious diseases.
The annual award is the highest honor given by VA Biomedical Laboratory Research and Development (BLR&D).
The Atlanta VAMC's director of research operations, Antonio J. Laracuente, said the award recognizes Schinazi's exemplary record of service to VA and to the biomedical community, and his development of new antiviral drugs that have come to form the backbone of combination regimens used in the treatment of HIV infection.
"The efficacy and safety of these medications have had a profound and transformative impact on the course of the AIDS epidemic, changing HIV infection from a death sentence into a manageable chronic illness," Laracuente said.
Schinazi, who has founded several biotechnology companies in addition to his VA and Emory roles, holds more than 90 U.S. patents and has authored more than 500 peer-reviewed papers in the academic literature.
In addition to making key discoveries on how to disrupt viral replication, Schinazi has developed methods to produce the resulting drugs on a large scale, for both clinical studies and the global market.
Four different drugs that his group discovered and developed have been approved by the U.S. Food and Drug Administration to treat HIV infections. The drugs are in use worldwide, also. It is estimated that well over 90 percent of HIV-infected people around the globe take one of these drugs.
Another three of his lab's drugs have been approved in the U.S. for hepatitis B, along with one for hepatitis C.
Additionally, Schinazi's expertise in virology and medicinal chemistry played a key role in the early development of the drug sofosbuvir, which was approved by the Food and Drug Administration in 2013 and is now in wide use as a highly effective treatment for hepatitis C virus infections. The drug, in short, is hailed as a "cure" for the disease.

VA established the Middleton Award in 1960 to honor William S. Middleton, M.D., a distinguished educator and physician-scientist, and the agency's chief medical director from 1955 to 1963. It is given annually by BLR&D to senior VA biomedical research scientists in recognition of outstanding contributions in biomedical and bio-behavioral research relevant to Veterans' health care.