December 21, 2018
VA scientist honored for his work in humanism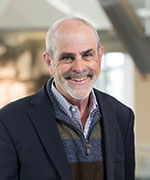 Dr. Richard Frankel
The Arnold P. Gold Foundation Research Institute has created the Richard Frankel Award for Creating a Loving Community. Frankel, a research scientist at the VA Center for Health Information and Communication (CHIC) in Indiana, has been honored for his work to promote humanism in medical education, practice, and research.
Frankel is also a Regenstrief Institute research scientist and professor of medicine and geriatrics at Indiana University School of Medicine. He is internationally known for his work to improve the physician-patient relationship and foster effective communication. "Medicine is fundamentally a human enterprise that is still practiced one conversation at a time," Frankel wrote in 2015.
Frankel recognized the importance of good physician-patient communication long before computers found a place in the exam room and competed for providers' attention. Twenty-five years ago, he co-developed the Four Habits Model of Highly Effective Clinicians. The model is used throughout the U.S. and abroad to teach physicians, nurses, and other providers how to interact effectively with their patients.
More recently, he developed a framework to help physicians stay focused on their patients while they use computers in the exam room. It is called POISED—prepare, orient, information gathering, share, and educate. Frankel says the need to document a patient encounter must not overwhelm a doctor's primary goal of building a solid physician-patient relationship.
In a 2014 study published in Patient Education and Counseling, researchers demonstrated the utility of the Four Habits Model in preparing newly licensed pediatric nurses for difficult conversations with the parents of their patients. The nurses in the study reported improvements in four out of five areas: preparation, communication skills, relationships, and confidence. The components of the model are: invest in the beginning; elicit the patient's perspective; demonstrate empathy; and invest in the end.
Frankel was instrumental in developing a research initiative at the Gold Foundation Research Institute called Mapping the Landscape, Journeying Together (MTL). The foundation was established in 2012 to help accelerate research in humanism in health care and to bring those discoveries to practice. Over the past five years, MLT has funded 70 literature reviews on topics related to humanism in health care, and 17 advocacy and discovery grants to help researchers bring their findings to practice.
The first recipient of the Richard Frankel Award for Creating a Loving Community was Dr. Helen Reiss. She is director of the Empathy and Relational Science Program at Massachusetts General Hospital and associate professor of psychiatry at Harvard Medical School. Reiss was presented the award at the Gold Foundation's symposium in Chicago, in May 2018.