September 28, 2021
VA researcher Dr. Ron Triolo named DAV's Outstanding VHA Employee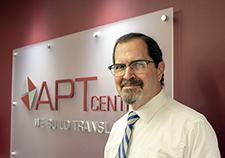 Dr. Ron Triolo is the executive director of the Advanced Platform Technology Center at the Cleveland VA Medical Center. (Photo by Cleveland VA Medical Center.)
Dr. Ron Triolo, executive director of the Advanced Platform Technology Center at the Louis Stokes Cleveland VA Medical Center in Ohio, was named the Veterans Health Administration (VHA) Employee of the Year by the Disabled American Veterans (DAV) for his work in restoring movement and sensation for Veterans with paralysis and limb loss. This award honors VA employees whose actions are exceptional examples of DAV's core values of service, quality, integrity, and leadership.
"Dr. Triolo's scientific work is as charitable as it is revolutionary," said DAV National Commander Stephen "Butch" Whitehead. "He's a pioneer in the field of the development of systems that allow individuals with spinal cord injury, stroke, or multiple sclerosis not only to stand again, but to thrive." The winners were formally recognized on Aug. 1 during the 2021 DAV and Auxiliary National Convention in Tampa, Florida.
At the APT Center, Triolo manages and oversees research projects that help restore Veterans' abilities to move and feel after amputation or central nervous system compromise. Along with a primary focus on rehabilitation for Veterans living with spinal cord injury, stroke, or multiple sclerosis, the APT Center also pursues cutting-edge research into wireless health-monitoring systems to assess complications that stem from various muscular, skeletal, or neurological conditions.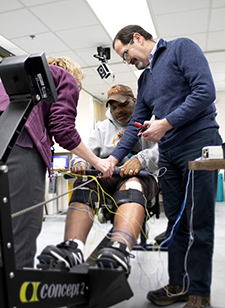 Dr. Ron Triolo (right) and colleague test a device that will stimulate nerves in a Veteran's paralyzed legs to help him operate a rowing machine. (Photo by Cleveland VA Medical Center.)
Triolo, who is a full professor in the department of biomedical engineering at Case Western Reserve University, said he was accepting the award on behalf of the APT Center's more than two-dozen dedicated clinicians and scientists. Pointing to a G.I. Joe toy that was missing a foot, which he affectionately named "VA Joe," Triolo said the figure is a prompt to "make sure our effort, vision, and mission are aligned with those of the DAV and to continuously remind us that we are here to help the men and women who served our country."
The Advanced Platform Technology (APT) Center is a VA research center in the Rehabilitation Research and Development Service. The Center addresses the pressing clinical needs of disabled Veterans by harnessing the most recent developments in untapped engineering and basic science disciplines and applying them to design and disseminate new rehabilitation interventions.
*Learn more about the APT Center, the Cleveland VA Medical Center, and Disabled American Veterans by visiting their websites. Also check out the APT Center YouTube channel to stay updated on their research.