December 2, 2016
VA research career scientist named 2016 AAAS fellow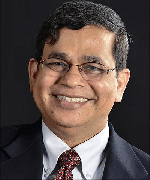 Shyam S. Mohapatra, Ph.D., MBA
VA researcher Shyam S. Mohapatra, Ph.D., MBA, has been named a 2016 fellow of the American Association for the Advancement of Science for outstanding contributions in the field of pharmaceutical and health sciences.
He was noted, in particular, for pioneering achievements in advancing biomedical nanotechnology (the use and application of very small particles that are measured in billionths of a meter) for inflammatory diseases.
Mohapatra is a research career scientist at the James A. Haley Veterans' Hospital in Tampa, Florida. He is also a distinguished health professor at the University of South Florida, where he is director of translational medicine, associate dean of graduate programs in the College of Pharmacy, and a distinguished professor in the Institute for Advanced Discovery & Innovation.
His research on the immunobiology of respiratory syncytial virus (RSV) and nanoparticle-mediated drug delivery and gene therapy, to name a few applications, has helped guide the fields of inflammation, immunology, infectious disease, biotherapeutics, and translational medicine.
RSV is a common viral illness that can present with a range of symptoms from mild to severe; almost all children are infected by 4 years of age. However, it can be troublesome for infants under 6 months of age, the elderly, and those individuals with weakened immune systems or congenital heart failure. It is a lower respiratory tract disease which, in its most severe form, can cause significant respiratory distress and pneumonia, and even death.
There is no cure or vaccine that is effective against the disease. However, Mohapatra's research has led to greater understanding of the molecular mechanisms underlying RSV infection, and is thus paving the way for the development of a potential multi-gene vaccine and a new peptide-based treatment approach. He has also pioneered novel approaches for the potential treatment of allergies, asthma, traumatic brain injury, and cancers.
Mohapatra is also a fellow of the American Institute of Medical and Biological Engineers; the American Academy of Allergy, Asthma and Clinical Immunology; and the National Academy of Inventors. In addition, he is also among the inaugural inductees of the Florida Inventors Hall of Fame.
The American Association for the Advancement of Science (AAAS) is the world's largest general scientific society, and publisher of the journal Science. Each year the association nominates a group of select members to become fellows. This year, the AAAS Council elected 391 members as fellows, in recognition of their contributions to innovation, education, and scientific leadership.