January 21, 2020
VA study on depression treatment cited among 'top stories' by New England Journal of Medicine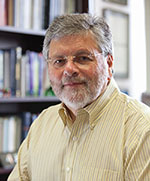 Dr. Sidney Zisook, with the VA San Diego Healthcare System, was lead author on a multisite VA depression study that was named one of the top studies in 2019 by NEJM Journal Watch Psychiatry (Photo by Kevin Walsh)
How should clinicians proceed when depressed patients don't respond to first-line antidepressant treatment? A VA study known by the acronym VAST-D has provided important guidance, and a 2019 article resulting from the trial has been named a "top story of 2019" by NEJM Journal Watch Psychiatry. That NEJM publication, like others in NEJM's "Journal Watch" series, is a digest and review of noteworthy research, designed to help clinicians stay on top of key study findings and other news in their field without having to pore through dozens of individual journals.
"As always, we looked for high clinical relevance, balanced with solid methodology, and every study we chose focused on improving clinicians' abilities to treat patients, whether by identifying the best options or highlighting the weaknesses of some once-touted approaches," wrote Dr. Peter Roy-Byrne of NEJM Journal Watch Psychiatry in a post announcing the selection of the top articles for 2019.
Tailoring treatment based on demographic, clinical factors
VAST-D stands for "VA Augmentation and Switching Treatments for Improving Depression Outcomes." The trial, funded by VA's Cooperative Studies Program, examined outcomes in more than 1,500 VA patients who received one of three next-step treatments after failing to respond to at least one antidepressant treatment. One next-step treatment was a switch to sustained-release bupropion (sold as Wellbutrin and other brands). Another was a combination of the current medication with sustained-release bupropion. The third was augmentation of the current drug with the antipsychotic aripiprazole (sold as Abilify and other brands).
The VAST-D analysis cited by NEJM Journal Watch Psychiatry revealed that augmentation with aripiprazole was more effective for patients aged 65 years and older, compared with the bupropion regimens. In contrast, for patients with severe mixed hypomanic symptoms, augmentation with aripiprazole or the current treatment combined with bupropion was more effective than switching to bupropion.
The finding provides valuable guidance for mental health prescribers in VA and the medical community at large.
Other VA studies cited
Two other studies with VA involvement also made the list, which included 10 studies in all. One was a study of meditation for PTSD, conducted with more than 200 Veterans at the VA San Diego Healthcare System. According to NEJM Journal Watch Psychiatry, the study found that "transcendental meditation helped over half of severely and chronically ill Veterans, with strong evidence of a "dose" effect [i.e., more was better], adding to the growing evidence that non-trauma-focused psychotherapies are as effective as trauma-focused therapies for PTSD."
The other VA study on the list looked at the drug gabapentin, sold as Neurontin and other brands, for treating alcohol use disorder. The authors combined and analyzed data from seven randomized clinical trials. They concluded that while some findings were promising, more research is needed to clearly define the role of the drug in treating alcohol use disorder, which is common in the VA patient population.