September 7, 2017
VA researcher receives Louis V. Avioli Founders Award for advancing bone health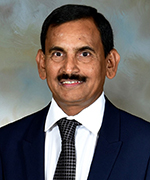 Dr. Subburaman Mohan
Dr. Subburaman Mohan, a VA senior research career scientist and director of the Musculoskeletal Disease Center at the VA Loma Linda Healthcare System in California, was awarded the 2017 Louis V. Avioli Founders Award from the American Society for Bone and Mineral Research (ASBMR).
Mohan, who is also a research professor at Loma Linda University, is internationally known for his significant contributions to skeletal biology research. His work has provided important contributions to the understanding of factors that influence bone development, bone loss, and remodeling (the process of rebuilding bone) in the human skeleton.
One of the major research accomplishments of Mohan and his team relates to the discovery of two new insulin-like growth factor (IGF) binding proteins that are pivotal in maintaining a healthy musculoskeletal system. The discovery was made during research that was investigating the potential use of growth hormone (GH) and IGF to treat osteoporosis, a condition that involves low bone mass.
"Age-related loss of bone mass occurs, in part, due to a decrease in components of the GH/IGF system. Therefore, supplemental anabolic GH and IGF-I therapies for the treatment of age-related bone loss and osteoporosis show great promise," said Mohan in a press release.
He has also made significant contributions to the understanding of several novel genes that are important to the process of bone regeneration and maintenance.
The human skeleton is a dynamic structure and undergoes changes throughout a person's lifetime. Peak bone mass, or maximum strength, is achieved around the age of 30 years old. Thereafter, both men and women lose bone mass as they age—but for women that process is accelerated when they reach menopause.
Mohan is a well-funded investigator and is a recipient of a number of professional awards. He has published nearly 400 papers and continues to serve on the editorial boards of several scientific journals, scientific organizing committees, and grant review panels.
His current work is centered around genetic regulation of peak bone mass, vitamin C deficiency-induced skeletal fractures, and the long-term consequences of mild traumatic brain injury on bone, among other subjects.
The Avioli Founders Award is given annually to an ASBMR member in recognition of exemplary research in basic bone and mineral metabolism. It was established in 2010 in memory of Louis V. Avioli, M.D., the first president of the ASBMR society.