July 29, 2019
VA researcher Dr. Michael Shlipak honored with John B. Barnwell Award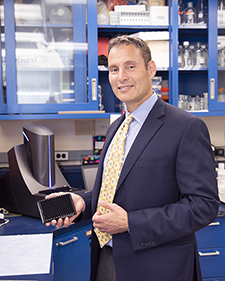 Dr. Michael G. Shlipak is associate chief of medicine for research development at the San Francisco VA Health Care System. (Photo by Edgardo Caballero, SFVAHCS)
VA investigator Dr. Michael G. Shlipak has received the John B. Barnwell Award—VA Clinical Science Research and Development's highest honor. The award was presented during a ceremony held on July 26 at the San Francisco VA Medical Center.
Shlipak was recognized for pioneering the use of a new biochemical measure, cystatin C, to detect early kidney disease. His research has gone on to show that cystatin C is also a marker for high risk of developing heart and vascular disease.
Traditionally, clinicians have used creatinine to measure kidney health. Creatinine is a chemical byproduct of muscle metabolism that is excreted by the kidneys. However, older people with early or preclinical kidney disease may show normal creatinine levels.
Shlipak has found that cystatin C is an important tool to forecast early kidney decline in older people. Both creatinine and cystatin C can be measured through a simple blood test. Because of his work, international guidelines now recommend measuring cystatin C to improve the diagnosis and classification of kidney disease.
"Dr. Shlipak's work has contributed substantially to the treatment of kidney failure and heart disease. He has also dramatically advanced the diagnosis of early kidney disease in individuals infected with HIV," said Dr. Rachel B. Ramoni, VA chief research and development officer. "His accomplishment is evidence of VA's commitment to excellence in the research and treatment of diseases affecting America's Veterans, with benefits extending to patients worldwide."
Shlipak is currently the associate chief of medicine for research development at the San Francisco VA Health Care System (SFVAHCS). He is also co-founder and scientific director of the Kidney Health Research Collaborative (KHRC) at the University of California San Francisco and SFVAHCS. The KHRC team combines world class research on kidney disease prevention and treatment with an aggressive mentorship program to cultivate future leaders in kidney research.
Dr. Shlipak and his colleagues are exploring the use of urine proteins to identify early kidney injury that occurs before loss of kidney function. Their work has demonstrated the potential for these biomarkers to predict future declines in kidney function. In addition, they believe that the kidney tubule markers will help guide medication safety.
For example, in a study published in the Annals of Internal Medicine, Shlipak and coauthors compared changes in kidney tubular health measures with changes in serum creatinine in study participants who were part of the Systolic Blood Pressure Intervention Trial (SPRINT). They found that the creatinine rises were typically related to hemodynamic responses to blood pressure reductions and did not represent intrinsic damage to the kidney. This study has major implications for the treatment of high blood pressure.
Shlipak has published over 465 scientific manuscripts in the past 20 years. He is also highly committed to growing the next generation of scientists, and he has mentored over 20 clinical investigators in the fields of nephrology and cardiology.
The Barnwell Award is VA's highest honor for clinical research. It is given each year to a VA investigator whose scientific contributions have changed clinical approaches to Veterans' health. The award is named after Dr. John Blair Barnwell, a highly regarded clinician, scientist, and educator who served in VA in the post-World War II era.