September 21, 2021
Dr. Louis Dell'Italia named 2021 Barnwell award recipient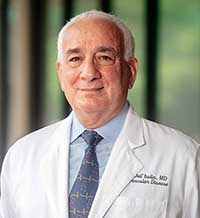 Dr. Louis Dell'Italia
Cardiologist and VA researcher Dr. Louis Dell'Italia has been named the 2021 John B. Barnwell Award recipient by VA's Clinical Science Research and Development (CSRD) service. The award is CSR&D's highest honor and is given for scientific contributions that change clinical practice for Veterans.
"Dr. Dell'Italia's scientific leadership and his commitment to improving health care for Veterans are clearly reflected in his research trials that have changed clinical practice for millions of patients. His dedication to VA is commendable," said VA Chief Research and Development Officer Dr. Rachel B. Ramoni.
Dell'Italia's academic career has spanned 40 years and led to seven top-10 teaching awards at the University of Alabama at Birmingham and University of Texas at San Antonio. He has been a VA researcher for more than 30 years and has served as associate chief of staff for research at the Birmingham VA Health Care System for more than 12 years. His work has helped to advance the understanding and treatment of serious cardiovascular disorders, like myocardial infarction or heart attack, that affect Veterans and many others.
Dell'Italia is internationally recognized for his contributions to three key areas of cardiovascular disease: right ventricular myocardial infarction, mitral valve regurgitation, and the renin angiotensin chymase system (RAS). He is known for translational research that starts in the laboratory with animals and moves to patient-oriented research that creates new clinical treatments.
"Dr. Dell'Italia's laboratory was the first to show that RAS blockade failed to improve left ventricular (LV) remodeling and function in animal models. His basic studies reversed a clinical tenet that said RAS blockade is beneficial for all forms of cardiac remodeling," noted Dr. Douglas L. Mann, professor, Washington University in St. Louis. This discovery significantly changed clinical practice for people with heart disease.
The RAS system is responsible, in part, for controlling blood pressure. LV remodeling refers to changes in the heart muscle that hamper efficient blood circulation. These changes occur because of chronic high blood pressure, heart attack, or other injury to the heart. Approximately 1 in 5 Veterans who receive their health care in VA have some form of cardiovascular disease.
For more than 30 years, Dell'Italia has received continuous research funding from VA and the National Institutes of Health. He obtained $18M in funding from NIH for the Specialized Center of Clinically Oriented Research (SCCOR) in Cardiac Dysfunction. As principle investigator, Dell'Italia led studies of LV remodeling using magnetic resonance imaging (MRI) with 3-D analysis and matching tissue analysis in animal models and patients.
"Dr. Louise Dell'Italia has dedicated his career to helping improve the lives of Veterans, both through his skillful and compassionate clinical care, as well as his ground-breaking translational research efforts," said Mann. "I believe that Dr. Dell'Italia embodies the personal and professional quality that inspired VA to establish an award in honor of Dr. Barnwell."
Dell'Italia will receive a $50,000 annual research award for three years, a cash award of $5,000, and an inscribed plaque commemorating his scientific achievements. The Birmingham VA Medical Center also will receive a plaque honoring Dell'Italia.