March 15, 2016
Cleveland VA infectious-disease researcher receives international award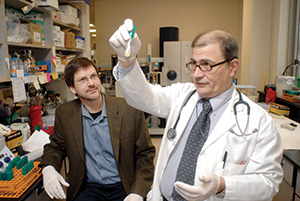 Cleveland VA researcher Dr. Robert Bonomo (right) and colleague Dr. Mark Adams, now with the J. Craig Venter Institute, have been studying the genetic make-up of A. baumannii, a species of bacteria that is resistant to most antibiotics. (2009 photo by Tim Harrison)
Robert A. Bonomo, M.D., chief of the medical service at the Louis Stokes Cleveland VA Medical Center and a longtime leader in infectious-disease research, is slated to receive the 2016 Excellence Award from the European Society of Clinical Microbiology and Infectious Disease (ESCMID).
Bonomo is the first non-European to receive the award. It was established in 2006 to recognize lifetime contributions to the fields of clinical microbiology and infectious diseases.
In addition to his VA role, Bonomo is a professor of medicine, pharmacology, molecular biology, and microbiology at Case Western Reserve University School of Medicine.
Bonomo will receive the award in April at ESCMID's conference in Amsterdam. His keynote address will be titled "The Renaissance of the Beta-Lactamase Inhibitors."
Beta-lactamase inhibitors block enzymes produced by certain bacteria that enable the germs to resist antibiotics. Given together with amoxicillin, penicillin, or other beta-lactam antibiotics, the inhibitors boost the effectiveness of the regimen. Bonomo's research has furthered the development of several of these inhibitor drugs.
His specialty has been studying the mechanisms of antibiotic resistance—for example, learning how bacteria share resistance genes. He has worked with a wide range of academic and industry partners, examining bacterial strains from around the world, to identify solutions to the problem.
For several years, Bonomo has focused on the genetic make-up of Acinetobacter baumannii, a species of bacteria referred to as "Iraqibacter" because of the toll it took on wounded U.S. troops. At one point, A. baumannii infections affected more than 30 percent of troops wounded in combat in Iraq or Afghanistan, complicating their recovery. The germ typically infects people in health care facilities, and it is considered a serious public health threat because most of its strains are resistant to multiple antibiotics.
In a study published recently in Genome Medicine, Bonomo and colleagues analyzed the genome of A. baumannii strains from 40 patients. The study, said the authors, provided "important insight into the transmission dynamics" of the bacteria.