May 2, 2019
Senior VA leader Dr. Carolyn Clancy honored for contributions to women's health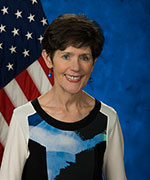 Dr. Carolyn Clancy, VA Deputy Under Secretary for Health for Discovery, Education and Affiliate Networks.
Dr. Carolyn Clancy, VA's Deputy Under Secretary for Health for Discovery, Education and Affiliate Networks has been honored by the Society for Women's Health Research for her major contributions to the improvement of women's health.
The society presented Clancy with its Health Public Service Visionary Award at its annual awards dinner on May 1 in Washington, D.C.
"As the fastest-growing segment within the U.S. Veteran population, young female Veterans have unique health care needs that must be recognized and addressed," said Dr. Amy Miller, SWHR president and CEO. "In her many influential roles at VHA, Dr. Clancy has enhanced access to and quality of care for women Veterans by helping to identify and remove barriers to their participation and care in the health system."
Clancy is an experienced health care executive, having served as director of the Agency for Healthcare Research and Quality from 2003 to 2013. In her current role, she works to foster collaboration among VA's researchers, clinicians, and the department's academic affiliates.
Under Clancy's leadership, VA has worked to build a stronger base of scientific evidence to guide patient care across a woman's lifespan. These efforts have increased research on primary care, reproductive health, intimate partner violence, mental health, and post-deployment health for women Veterans.
Currently, 1.9 million living female Veterans make up nearly 10 percent of the Veteran population.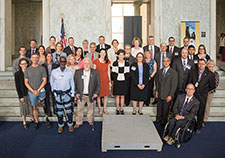 Dr. Carolyn Clancy stands with a distinguished group of VA scientists at the inaugural VA Research Day on the Hill in Washington D.C., held on June 19, 2018.
There are several important VA initiatives that have contributed to the advancement of women's health, both within VA and in the broader community. For example:
The Cooperative Studies Program (CSP) Network of Dedicated Enrollment Sites (NODES) has worked with the VA Women's Health Research Network to increase the number of women who enroll in clinical trials.
VA supports research that works specifically with women Veterans with limb loss to promote the development of artificial limbs that address their specific needs.
VA's National Center for PTSD has joined forces with the nonprofit organization PINK Concussions to encourage women Veterans to donate their brains after death. Researchers hope to learn more about how the female brain deals with traumatic brain injury and PTSD.
"I am so honored to be recognized by SWHR because they've put a focus for women's health research on the map," said Clancy. "I look forward to celebrating our future work to advance the health of women."
The Society for Women's Health Research (SWHR) is a national nonprofit dedicated to improving women's health through research, health policy, and education. They are dedicated to promoting research on diseases and conditions that exclusively affect women.
Listen to Clancy speak about the vital research that VA is conducting on issues relevant to women's health.
To learn more about the work that VA researchers are doing to improve women's health, visit the Women's Health topic resource page.