April 26, 2021
TBI researcher Dr. David Cifu named 2021 Magnuson Awardee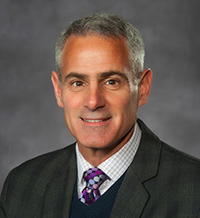 Dr. David Cifu
VA researcher Dr. David Cifu has been awarded the Paul B. Magnuson Award in recognition of his contributions to the understanding of traumatic brain injury, polytrauma, and neurodegenerative disease in Veterans. The award is VA Rehabilitation Research and Development Service's highest honor.
Cifu is an internationally recognized expert on polytrauma—complex injuries sustained in combat that can include TBI, amputation, burns, fractures, and psychological disorders like PTSD. He served as chief of Physical Medicine and Rehabilitation at Hunter Holmes McGuire VA Medical Center from 2006-2010, and is currently VA's senior expert on TBI.
"Dr. Cifu is nationally regarded as VA's leading researcher in combat-related neurotrauma. Through his many collaborative efforts, he has brought together more than 100 researchers to translate neuroscience research to clinical care for Veterans with disability," says J. Ronald Johnson, FACHE, director, Central Virginia VA Health Care System in Richmond.
In addition to his research efforts, Cifu is the founding director of the Virginia Commonwealth University Center for Rehabilitation Sciences and Engineering or CERSE. He is also associate dean for Innovation and Systems Integration at VCU.
Cifu is an accomplished author and has published 230 peer-reviewed articles and co-authored or edited 40 books and book chapters. He is editor-in-chief of Braddom's Physical Medicine and Rehabilitation, a well-respected PM&R text published by Elsevier.
Over his career, Cifu has been funded more than $245 million for 49 research grants. He was the principal investigator for the VA/DOD Chronic Effects of Neurotrauma Consortium (CENC), and is now leading its successor, the Long-term Impact of Military Relevant Brain Injury Consortium or LIMBIC.
CENC was created in response to a 2012 executive order by former President Obama to address traumatic brain injury and its outcomes, especially in Veterans and service members who were injured during service in Iraq and Afghanistan. The Consortium, which received $62 million in funding from VA and DoD, was originally established in 2013 to focus on the basic science behind TBI, its late-life outcomes, and to identify service members most susceptible to its effects.
LIMBIC—which received $50 million in funding from VA and DOD in 2019—will prospectively follow more than 3,000 Veterans and service members for the duration of the grant funding, representing all U.S. conflicts dating back to World War II. A majority of study participants (80%) have sustained at least one mild TBI and many have multiple co-morbid conditions. Researchers seek to unlock the mysteries of military concussion and recovery, according to Cifu. "We're poised to dive more deeply into the research aims to produce actionable findings that will improve the care of Veterans and service members and enhance the quality of life for America's heroes," he notes.
A second study aim has led to the establishment of a database of military and VA health records, disability assessments, and other information for more than 2 million Veterans and service members who were involved in U.S. conflicts or war.
Since 2013, LIMBIC-CENC has together a team of over 100 researchers from 15 VA medical centers, 18 affiliate universities, and nine DOD facilities across 22 states.
To view a video describing the LIMBIC consortium, see "VCU Leads $50 Million Traumatic Brain Injury Research Grant."
The Magnuson Award honors the life and legacy of surgeon Dr. Paul B. Magnuson, who continuously sought new treatments and devices for his patients as they faced disability. Magnuson understood his duty, not just to cure, but to also restore a patient "to his family, his job, and his life."