August 8, 2014
NCPTSD psychologist Dr. Erika Wolf noted for trauma work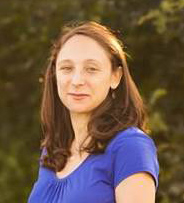 Dr. Erika Wolf
Dr. Erika Wolf, an investigator with the Behavioral Sciences Division of VA's National Center for Posttraumatic Stress Disorder, won the 2014 Chaim and Bela Danieli Young Professional Award from the International Society for Traumatic Stress Studies. The award recognizes outstanding contributions to the traumatic stress field by an early career professional.
In addition, Wolf has received the 2014 Award for Outstanding Contribution to Trauma Psychology by an Early Career Psychologist from the American Psychological Association's trauma psychology division.
Wolf's research interests include the genetics of PTSD, and new approaches to accurately assessing PTSD and other trauma effects. In the past year or two, she has been lead author or coauthor on studies addressing PTSD and intimate partner aggression; the influence of various pre-deployment and deployment risk factors on the development of PTSD; the role of the RORA and CRHR-2 genes in PTSD; the psychological effects of the Boston Marathon bombing on local Veterans with PTSD; and the link between PTSD and intermittent explosive disorder.