December 19, 2019
VA researcher Dr. Jeffrey Curtis receives 2019 Barnwell Award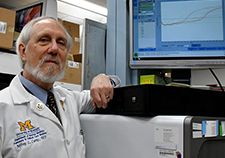 Dr. Jeffrey L. Curtis is a physician-researcher at the VA Ann Arbor Healthcare System in Michigan. He is internationally recognized as a leading researcher in the field of pulmonary disease. (Photo by Brian Hayes, VA Ann Arbor Healthcare System)
VA researcher Dr. Jeffrey L. Curtis has received the 2019 John B. Barnwell Award. It is VA Clinical Science Research and Development's highest honor, given for scientific contributions that change clinical practice for Veterans.
Curtis is a pulmonologist and critical care physician at the VA Ann Arbor Healthcare System in Michigan. He is also a professor at the University of Michigan in Ann Arbor. He is internationally recognized as a leading researcher in the field of pulmonary disease.
"Dr. Curtis is a dedicated VA physician scientist with over 30 years' service. He has made many fundamental contributions to our understanding of chronic obstructive pulmonary disease (COPD) and lung defense from bacterial pathogens," said Dr. Rachel Ramoni, VA's chief research and development officer. "In addition, by demonstrating outstanding strengths in mentoring early-career scientists, he has fostered the next generation of VA investigators."
Curtis has made many significant contributions to science's understanding of the basic mechanisms underlying COPD, asthma, and lung infection. His early work identified the role the immune system plays in COPD and other lung diseases. His research has also helped inform current clinical therapies for these disorders. Two such therapies are the use of steroids and antibiotics to treat acute flare-ups of COPD.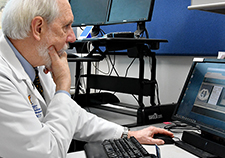 Curtis has been a leader in a number of major clinical trials and programs to advance the study of COPD and other lung disorders, including:
A VA cooperative trial that demonstrated the efficacy of steroids for acute flare-ups of COPD.
The Michigan Lung Volume Reduction Surgery program, which validated surgical lung reduction as a treatment for advanced COPD.
The COPD Clinical Research Network (CCRN), which established that the frequency of COPD exacerbations can be reduced by scheduled use of the antibiotic azithromycin, but not by statins or beta-blockers.
The Lung Tissue Research Consortium (LTRC), which studies lung tissue samples from people with and without lung diseases.
The COPD Genetic Epidemiology study (COPDGene), which identified genetic factors associated with COPD.
SPIROMICS, an ongoing cohort study to identify novel biomarkers of COPD progression.
The Early COPD Cohort, which is about to start recruiting to determine the earliest changes that cause some smokers to develop disease.
COPD is a spectrum of lung diseases that block or restrict airflow in the lungs, making it difficult to breathe. It is the third leading cause of death in the U.S. and is more prevalent in Veterans than in the general population.
Emphysema and chronic bronchitis are the most common conditions that fall under the umbrella of COPD. Both are caused by exposure to indoor air pollution, particulate matter, or noxious gases like cigarette smoke. All of these irritants trigger an inflammatory response in the lungs.
The lungs play an important role in the body's defense against inhaled pathogens, like viruses. However, in inflammatory lung diseases like COPD the immune system initiates and drives a maladaptive response to inhaled irritants.
Curtis and his colleagues are studying the role white blood cells play in pulmonary immunity and diseases like COPD.
They are also studying the mechanisms responsible for clearance of dead cellular material in the lungs. In healthy people, unneeded cells die naturally through a process called apoptosis. Specialized cells called macrophages are programmed to clear away most dead cells.
In chronic lung diseases like COPD, the lungs are burdened with dead cells that are not properly cleared away by the body. In some cases, this can cause an autoimmune response.
Curtis is past chair of the American Thoracic Scientific Assembly on Allergy, Immunology and Inflammation. In 2019, he was granted a scientific accomplishment award by the AII assembly.
The Barnwell Award is given each year to a VA investigator whose scientific contributions have changed clinical approaches to Veterans' health. The award is named after Dr. John Blair Barnwell, a highly regarded clinician, scientist, and educator who served at the VA in Ann Arbor, Michigan in the post-World War II era.