December 16, 2014
VA's Magnuson Award to gene therapy pioneer Dr. David Fink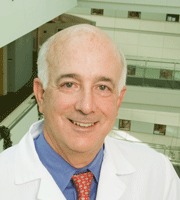 Dr. David Fink
Gene therapy pioneer and longtime VA researcher Dr. David Fink received the 2014 Paul B. Magnuson Award from VA in a ceremony at the VA Ann Arbor Healthcare System on Dec. 15, 2014.
Dr. Fink is a staff neurologist and an investigator with the Geriatric Research, Education and Clinical Center at the Ann Arbor VA. He is also the Robert Brear Professor and Chair of Neurology at the University of Michigan. He has been with VA since 1982.
A Harvard Medical School graduate, Fink has pioneered methods to introduce genes into the body to treat chronic pain and other nervous-system diseases. His team led the first human clinical trial of gene therapy for pain. The phase 1 trial, published in the Annals of Internal Medicine in 2011, involved 10 cancer patients with severe pain who had failed to respond even to high doses of morphine or other pain drugs. Fink's group gave them skin injections of an inactive form of the herpes simplex virus as a means to deliver a gene known as PENK. The gene helps the body produce an opioid-like molecule called proenkephalin.
The gene treatment, based on years of research, is safe in humans and led to pain reduction. A larger phase 2 clinical trial of the approach is now being planned.
Besides cancer pain, Fink's work focuses on Veterans and others with nerve-related conditions such as spinal cord injury and diabetic neuropathy. The team is developing non-replicating viral "vectors," similar to the one used in the 2011 human trial, to ferry genes into the nervous system that code for the production of the body's own pain relievers. A related approach, now being funded by VA, is to use the vectors to bring about the continuous release of proteins that protect nerve cells from dying. This could help prevent neuropathy and the sharp chronic pain it entails.
"Dr. Fink's work holds tremendous potential for treating Veterans with chronic neurological disease," said Robert McDivitt, an Army Veteran and director of the VA Ann Arbor Healthcare System.
Fink was presented the award by Dr. Carolyn Clancy, VA's acting undersecretary for health. Also attending the ceremony was Dr. Patricia Dorn, director of VA Rehabilitation Research and Development, which each year presents the Magnuson Award as the highest honor for VA rehabilitation investigators.
The award is named for Paul B. Magnuson, a bone and joint surgeon who was a key figure in the expansion of the VA research program after World War II. He was known for his dedication to finding new treatments and devices to help Veterans cope with their disabilities, and, as he put it, to restoring each patient to "his family, his job, and his life." Established in 1998, the Magnuson Award consists of a plaque, a one-time award of $5,000, and $50,000 per year for up to three years to supplement ongoing peer-reviewed research.