February 14, 2018
VA psychiatrist Dr. Elaine Peskind receives Paul B. Magnuson Award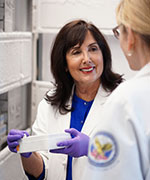 Elaine Peskind, M.D. (Photo by Christopher Pacheco)
Dr. Elaine Peskind has been awarded the VA Rehabilitation Research and Development Service's highest honor—the Paul B. Magnuson Award. It is given to acknowledge entrepreneurship, humanitarianism, and dedication in service to Veterans.
"Under her leadership," said Dr. Patricia Dorn, director of RR&D, "Dr. Peskind has improved the lives and functional recovery of Veterans with mild traumatic brain injury and PTSD. She has also been successful in mentoring the next generation of VA researchers."
Peskind has been recognized for her extensive work on brain and behavioral disorders. Throughout her 35-year career, she has studied a wide range of conditions that affect the brain: including Alzheimer's disease, PTSD related to combat injuries, and mild traumatic brain injury. She is a prolific investigator, having published more than 340 studies. Since 1998, her work has been continuously funded by either the VA or the National Institutes of Health.
Peskind is well-known for pioneering methods to collect and store cerebrospinal fluid (CSF) samples for research. Collecting CSF is necessary for studying fluid biomarkers—an essential part of research into degenerative diseases like Parkinson's and Alzheimer's disease. She has served as a consultant or member of biomarker committees for organizations like the Michael J. Fox Foundation.
She has also been key in developing the use of prazosin—a blood pressure drug—to treat hypervigilance and nightmares in Veterans with PTSD. She received the Commander's Award for Public Service from the U.S. Department of the Army for her leadership role in completing a randomized clinical trial on the use of prazosin in active duty soldiers with PTSD. The trial was the first of its kind to examine the use of medication to treat a behavioral disorder in active duty service members.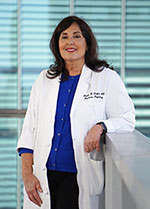 Elaine Peskind, M.D., co-director of the VA Northwest Mental Illness Research, Education, and Clinical Center, VA Puget Sound Health Care System (Photo by Christopher Pacheco)
That study was published in 2013—one of a series of promising trials of the drug. Peskind was also co-principal investigator of a larger trial of prazosin, sponsored by VA's Cooperative Studies Program that appeared in the New England Journal of Medicine in early February 2018.
In a 2016 study, Peskind and her colleagues discovered that blast exposures in mice caused changes to the cerebellum—an area in the brain—that were similar to structural changes seen in Veterans who sustained blast-related head trauma. Peskind's team found a correlation between blast exposures and reduced uptake of a chemical tracer that is used in medical imaging. Reduced uptake of the tracer is an indicator of less brain activity in Veterans' brains. Their findings indicate that when there are more blast injuries to the head, there is less activity in the cerebellum. The researchers say that changes to the cerebellum could be responsible for the mood changes and memory loss seen in Veterans with mTBI.
Studies have shown that people who experience repeated blows to the head are at much greater risk of a brain disease called chronic traumatic encephalopathy (CTE). "We've heard a lot about the effects of repetitive-impact mild TBI in professional athletes like boxers and football, soccer and hockey players," said Peskind to Scientific American. "And we became very concerned that our young service members and Veterans might similarly be at risk for chronic traumatic encephalopathy, a midlife neurodegenerative disorder."
Peskind has been co-director of the VA Northwest Mental Illness Research, Education, and Clinical Center (MIRECC) at the VA Puget Sound Health Care System in Washington since 1997. She is also the Friends of Alzheimer's Research Endowed Professor at the University of Washington in Seattle, and was the associate director of the University's Alzheimer's Disease Research Center from 1998–2017.