April 1, 2019
VA researcher Dr. Ronald Triolo receives Paul B. Magnuson Award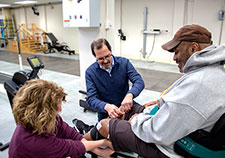 Dr. Ronald J. Triolo and physical therapist Lisa Lombardo work with a Veteran research participant in the VA Motion Study Laboratory in Cleveland. (Photo by Jennifer Kerbo)
Dr. Ronald J. Triolo has received the VA Rehabilitation Research and Development Service's highest honor—the Paul B. Magnuson Award. The award is given to acknowledge entrepreneurship, humanitarianism, and dedication in service to Veterans.
Triolo is an internationally recognized researcher in the areas of neural and rehabilitation engineering. He is executive director and co-founder of the VA Advanced Platform Technology Center in Cleveland. The RR&D center was established to help Veterans with sensory, motor, and cognitive deficits like those caused by spinal cord injuries (SCI) through the development of novel assistive technologies and rehabilitation methods.
Triolo has pioneered neuroprostheses that use neural stimulation systems to allow people with SCI or stroke to regain some of the mobility lost to paralysis. The devices, implanted under the skin, consist of electronics that communicate with the nervous system to cause otherwise paralyzed muscles to contract. With this assistance, users can generate movements necessary for activities like transfers, seated posture, balance, standing, and walking. Triolo's team is now applying similar technology to activate the sensory nerves of amputees to allow them to feel their prosthetic feet and ankles.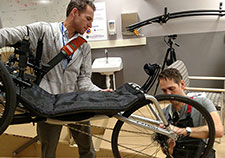 VA investigators Drs. John McDaniel and Paul Marasco adjust a tricycle designed to be used by a person with complete spinal cord injury and an implanted neural stimulation device. (Photo by Nathaniel Welch)
Being able to exercise and stand brings a variety of benefits for wheelchair users. Standing and exercise can improve blood circulation, bowel and bladder function, and digestion. It can also improve quality of life, and the ability to do everyday tasks—for example, allowing people to reach objects above their heads or negotiate tight spaces inaccessible to a wheelchair. Restoring natural sensation to lower-limb amputees with neural stimulation can ultimately improve standing and walking balance and prevent falls
In 2016, Team Cleveland—a group led by Triolo—competed in the world's first "Cybathlon," a competitive event for people who use advanced assistive devices. Participants competed in different events using technologies like powered prostheses, exoskeletons, and neural stimulation.
Members of Team Cleveland took home the Gold Medal in the Functional Electrical Stimulation Bike Race, setting a new world record. Pilots with complete SCI pedaled around a circular track for 750 meters on tricycles powered by stimulation-generated contractions of their own paralyzed muscles.
"I am extremely proud of Dr. Triolo's accomplishment at the world's first Cybathlon," said Susan Fuehrer, director of the Louis Stokes Cleveland VA Medical Center. "The attention this [event] brought to research for Veterans and the disabled community was extremely valuable in promoting VA's mission."
Michael McClellan, a member of Team Cleveland, rides a tricycle used in the Functional Electrical Stimulation Bike Race in the 2016 Cybathlon. (Photo by Nathaniel Welch)
Through a VA Innovation Network award, Triolo has given other Veterans with SCI at the Cleveland VA access to pedaled trikes like those used in the Cybathlon. He is working to bring these devices to any Veteran with SCI who could benefit from the technology.
As director of the APT Center, Triolo has also been instrumental in developing robotic exoskeletons—devices worn around the body of people with limited or no ability to move their legs. The devices are powered by a hybrid system of neural stimulation and electrical motors that assist users in walking and standing.
Triolo's exoskeletons are different than commercially available devices because they maximize the contributions of the user's own muscles before adding power from the external motors. This allows users to benefit from a new form of exercise, as well as from the mobility provided by conventional exoskeletons.
To further advance exoskeletons, Triolo served on the planning committee for CSP #2003, a VA Cooperative Studies Program trial called "Powered Exoskeletons in Persons with SCI." The study is examining changes in quality of life for Veterans with SCI who use exoskeletons.
The underlying intent of Triolo's work is to provide options for disabled Veterans so that they may achieve their personal functional goals and improve their independence in the community.
"We are only beginning to scratch the surface of what neural stimulation can do to enhance the lives, overall health, and well-being of Veterans with disabilities," says Triolo. "I am honored to have the opportunity to play a small part in revolutionizing rehabilitation for disabled Veterans and all Americans through restorative technology."