October 20, 2016
VA's Middleton Award to researchers studying bone diseases, cancer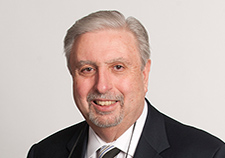 Dr. Stavros C. Manolagas studies osteoporosis and other bone diseases at the Central Arkansas Veterans Healthcare System. (Photo courtesy of UAMS)
The VA Office of Research and Development (ORD) has presented its 2016 Middleton Award to two researchers: Stavros C. Manolagas, M.D., Ph.D., of the Central Arkansas Veterans Healthcare System, who studies osteoporosis and other metabolic bone diseases; and Ann Richmond, Ph.D., of the VA Tennessee Valley Healthcare System, who studies cancer.
The Middleton Award is the highest honor from VA Biomedical Laboratory Research and Development, part of ORD. The annual award, established in 1960, honors senior VA research scientists for outstanding scientific contributions and achievements in biomedical and behavioral research relevant to Veterans' health care.
Pioneering work on osteoporosis
Manolagas' award recognizes his exemplary record of service to VA and the biomedical profession, and his pioneering work on the mechanisms underlying osteoporosis and other metabolic bone diseases. He is credited with advances in skeletal biology that have changed clinical care. His discoveries, for example, resulted in improved management of chronic kidney disease through the administration of vitamin D. The treatment eases hyperparathyroidism—an excess of parathyroid hormone in the blood, due to overactive parathyroid glands, that can result from kidney disease.
His other trademark contributions include elucidating the role of sex steroid hormones, including estrogen, in bone biology and osteoporosis in both men and women, and developing a treatment for postmenopausal osteoporosis and painful metastatic bone diseases.
Manolagas has spent nearly four decades studying bone and mineral metabolism and related topics. He is chief of the endocrinology section of the Central Arkansas VA and director of the division of endocrinology and metabolism at the University of Arkansas for Medical Sciences. Among other roles at the school, he is also the founder and director of the Center for Osteoporosis and Metabolic Bone Diseases.
Advancing skin cancer treatment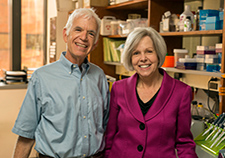 Dr. Ann Richmond (right) was nominated for VA's Middleton Award by Dr. Donald Rubin (left), associate chief of staff for research at the VA Tennessee Valley Healthcare System's Nashville campus and a professor at Vanderbilt University. (Photo by Daniel Dubois)
Richmond is a senior associate career scientist with VA in Nashville and a professor at Vanderbilt University School of Medicine. A cancer researcher, she was honored for significant contributions to understanding "chemokines," inflammatory proteins that can regulate tumor growth. Her research has helped lay the foundation for understanding how to improve immunotherapies against melanoma, a potentially lethal skin cancer that affects Gulf War Veterans disproportionately.
Richmond says Gulf War veterans are at higher risk of developing melanoma, and dying from the disease, compared to the general population because of the heavy sun exposure they incurred during their deployments.
"A lot of our work is linking how chemokines, as inflammatory mediators, play a role in the recruitment of anti-tumor leukocytes [white blood cells] into the tumor microenvironment to help boost the immune response to the tumor, and allow these immune cells to destroy tumor cells," Richmond says. "Immunotherapy is the best treatment we have now for metastatic melanoma. We've made huge strides in understanding how to treat this disease."
Richmond has been a Vanderbilt faculty member since 1989, and a VA researcher since 1983.
The VA award is named for the late William S. Middleton, M.D., who served as VA's chief medical director from 1955 to 1963. He was instrumental in initiating and expanding VA research. Each awardee receives $50,000 per year for three years in research support from VA and a cash award of $5,000. VA also provides a plaque for the awardee and his or her medical center.