October 30, 2018
Dr. William A. Banks receives VA's Middleton Award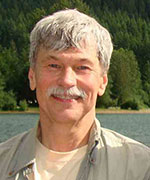 Dr. William A. Banks
Dr. William A. Banks, associate chief of staff for research and development at VA Puget Sound Health Care System in Washington, has received the 2018 William S. Middleton Award. It is the highest honor conferred by the VA Biomedical Laboratory Research and Development (BLR&D) Service.
The award recognizes Bank's long history of contributions to VA research, particularly his groundbreaking work in the emerging field of neuroimmunology—which studies interactions between the nervous and immune systems. He is considered a leading expert on the blood-brain barrier and how it functions within the body.
Banks' laboratory studies how the brain communicates with the rest of the body through the transfer of molecules across the blood-brain barrier. The barrier consists of different cells within the blood vessels that limit the passage of certain molecules from the blood into the brain. His work has also helped scientists comprehend how disruptions in the homeostasis mechanisms within the body—such as blood sugar level maintenance—can lead to diseases in the nervous system.
His important discoveries include:
discovering the mechanism of cytokine transport across the blood-brain barrier and its effect on thinking in conditions like Alzheimer's disease
demonstrating the ability of gastrointestinal hormones to cross the blood-brain barrier and the impact of obesity on the transport of the hormone leptin.
showing that decreased transport of amyloid-beta peptide leads to its accumulation in the brain and promotes development of Alzheimer's disease.
discovering that excess glucose metabolism in diabetes creates oxidative stress that results in the death of cells called pericytes and disrupts the blood-brain barrier.
understanding that HIV-1, as free virus, can cross the blood-brain barrier and infect the brain.
Banks is also a professor in the division of gerontology and geriatric medicine at the University of Washington, Seattle, and editor in chief of Current Pharmaceutical Design. He is the author of over 360 research papers in well-known journals such as Diabetes and Brain Research.
In addition to fostering the health of Veterans and patients worldwide, his work has helped spur ongoing development of new drug therapies for the treatment of nervous system disorders. For example, Bank's lab has studied several peptide analogs that have increased therapeutic action on conditions like Alzheimer's disease.
The William S. Middleton Award is awarded annually to senior VA biomedical research scientists in recognition of outstanding scientific achievements in the areas of biomedical and bio-behavioral research. It was established in 1960 to honor Dr. William S. Middleton, distinguished educator, physician-scientist, and VA chief medical director from 1955 to 1963.