August 12, 2019
2019 Middleton Award goes to VA researchers Dubinett, Zile
Dr. Steven Dubinett and Dr. Michael Zile have been awarded the 2019 William S. Middleton Award for their outstanding contributions to biomedical research. It is the highest honor given by the VA Biomedical Laboratory Research and Development (BLR&D) Service.
"Dr. Dubinett's and Dr. Zile's work is of great scientific impact in areas that are relevant to Veterans' health care," said Dr. Rachel Ramoni, VA's chief research and development officer. "Their research careers are shining examples of the bench-to-bedside-to-bench philosophy." This approach emphasizes the two-way collaboration between biomedical scientists and clinicians as they inform and build on each other's work.
Using immunotherapy to fight lung cancer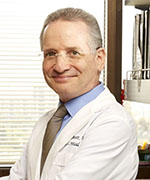 Dr. Steven M. Dubinett, photo courtesy of the University of California, Los Angeles.
Dr. Steven M. Dubinett is a researcher and staff physician at the VA Greater Los Angeles Healthcare System. He is also chief of the division of pulmonary and critical care medicine at the University of California, Los Angeles, and director of the UCLA Lung Cancer Research Program.
Dubinett is nationally recognized for his research that seeks to understand the immunobiology of lung cancer, and for translating that work into clinical trials that seek to bring new treatments to patients. He serves as the director of the UCLA Clinical and Translational Science Institute.
His early investigations found that cells from patients who had non-small cell lung cancer produced chemical mediators that interfered with cellular immune functions at the tumor site.
To overcome this immune system malfunction, Dubinett developed human vaccines using gene modification techniques to help instill an augmented immune response in cancer patients. He is currently evaluating this vaccine along with an immunotherapy drug—pembrolizumab— to help boost the patients' immune responses in order to better fight the cancer.
Dubinett has served in many leadership roles for the early detection and immunobiology of lung cancer. He is a funded member of the National Cancer Institute's Early Detection Research Network. And he serves as a principal investigator in the Moonshot Program Human Tumor Atlas Network as well as the Stand Up to Cancer Dream Team for lung cancer interception.
His work helped to inform the National Lung Cancer Screening Trial. NLST was a large clinical trial that enrolled more than 53,000 current or former heavy smokers. The study found that participants who received low-dose helical CT scans—rather than a standard X-ray—had a 15 to 20 percent lower risk of dying from lung cancer.
New targets for treatment of heart failure with preserved ejection fraction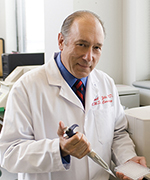 Dr. Michael Zile, photo courtesy of the Medical University of South Carolina.
Dr. Michael Zile has been a VA clinician-scientist for more than 30 years. He is currently chief of cardiology at the Ralph H. Johnson VA Medical Center in Charleston, South Carolina. He is also the Charles Ezra Daniel professor of medicine at the Medical University of South Carolina.
Zile is recognized as an international expert in the study of heart failure with preserved ejection fraction. HFpEF is a type of heart failure where the ejection fraction—a measurement of the amount of blood ejected from the heart with each beat—is normal.
About 50 percent of people diagnosed with heart failure have HFpEF and are at greater risk for functional disability, atrial fibrillation (a heart arrhythmia), frequent hospitalizations for heart failure, and cardiovascular death. They typically experience shortness of breath, fatigue, and swelling from excess fluid in the body.
Zile is credited with helping to establish the diagnostic criteria that are used to identify the subgroup of patients who have HFpEF; developing predictors of morbidity and mortality in patients with HFpEF; and explaining HFpEF disease mechanisms that are now being used to develop new drugs to treat heart failure.
His research has also helped to identify new areas of investigation in clinical trials aimed at controlling left ventricular structural remodeling—unhealthy changes in the lower chambers of the heart— and left ventricular diastolic dysfunction in patients with HFpEF.
Zile has taken on a leadership role in many clinical trials designed to investigate new therapies to treat patients with HFpEF. Among others, he was involved in randomized clinical trials sponsored by the NIH (such as TOPCAT which investigated the effectiveness of the drug spironolactone), the DOD (such as REGRESS-HFpEF), and industry (such as I-Preserve and PARAGON-HF), to test new treatments for patients with HFpEF.
Because there are no approved therapies to treat HFpEF, Zile's work is of great importance not only to Veterans, but patients worldwide.
The William S. Middleton Award is awarded annually to senior VA biomedical research scientists in recognition of outstanding scientific achievements in the areas of biomedical and bio-behavioral research. It was established in 1960 to honor Dr. William S. Middleton, a distinguished educator, physician-scientist, and VA chief medical director from 1955 to 1963. Previous recipients have included two Nobel Laureates and six Lasker awardees.