October 19, 2018
Four VA scientists elected to National Academy of Medicine
Four senior VA researchers have been elected to the 2018 class of The National Academy of Medicine. The inductees are Dr. Ann McKee, VA Boston Healthcare System; Dr. Albert Siu, James J. Peters VA Medical Center in New York; Dr. Lucila Ohno-Machado, VA San Diego Healthcare System; and Dr. Rachel Werner, Corporal Michael J. Crescenz VA Medical Center in Philadelphia.
Election to the academy is a high honor for health and medical professionals. Members are selected for their contributions to the medical sciences, health care, and public health. This year, the academy inducted 75 members from the U.S. and 10 international members.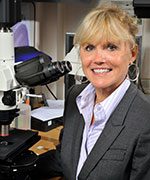 Dr. Ann McKee
Dr. Ann McKee is chief of neuropathology at the VA Boston Healthcare System and director of the VA-BU-CLF Brain Bank, a joint endeavor between VA, Boston University, and the Concussion Legacy Foundation. She is also a professor of neurology and pathology at Boston University School of Medicine. She has devoted her research to understanding traumatic brain injury, Alzheimer's disease, aging, and vascular neuropathology. McKee is best known for her groundbreaking research on chronic traumatic encephalopathy (CTE)—a degenerative condition in the brain that results from repeated, traumatic blows to the head. CTE can currently be diagnosed only after death, and has been found in the brains of professional contact athletes and members of the military who have sustained blast injuries. McKee was cited by the academy for expanding medicine's understanding of the molecular basis of CTE and for promoting a public dialogue about sports-related health risks.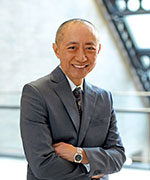 Dr. Albert Siu
Dr. Albert Siu directs the Geriatric Research, Education, and Clinical Center at the James J. Peters VA Medical Center in New York, and has served as past chair of the U.S. Preventive Services Task Force. He is also the Ellen and Howard C. Katz Chairman's chair emeritus and professor of the Brookdale Department of Geriatrics and Palliative Medicine at the Icahn School of Medicine at Mount Sinai. The department is one of the largest academic geriatrics programs in the United States. Siu's research is focused on improving the quality and delivery of health care for an aging population. Areas of special focus at the Bronx/New York Harbor GRECC include improving palliative care; preventing functional disability; discovering drugs for Alzheimer's disease; improving transitions of care; and improving care for rural older Veterans. The academy cited Sui for his seminal contributions to evidence-based practice in health services research, and for programs that link geriatrics and palliative care.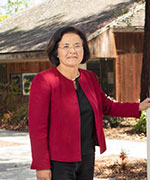 Dr. Lucila Ohno-Machado (Photo ©UC San Diego Health)
Dr. Lucila Ohno-Machado is a research scientist at the VA San Diego Healthcare System and chair of biomedical informatics at UC San Diego Health in California. She is also associate dean for informatics and technology at the UC San Diego School of Medicine. Ohno-Machado is considered a pioneer in bioinformatics, and has worked to make patient data more accessible for physicians, researchers, and patients. She founded the biomedical informatics program at UC San Diego School of Medicine in 2009. It went on to become a department at UC San Diego Health in 2015. The department develops informatics algorithms and systems that can extrapolate patient data from medical records for research and public health initiatives. Ohno-Machado is principal investigator for Integrating Data for Analysis, Anonymization, and Sharing (iDASH). iDASH is one of seven National Centers for Biomedical Computing, which are funded by the National Institutes of Health. The program—which partners with VA research on population analytics—is charged with developing new algorithms and tools to facilitate the secure, private sharing of health data. The academy cited Ohno-Machado for her work on those algorithms and others that allow researchers to access clinical data in a secure environment.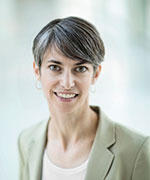 Dr. Rachel M. Werner
Dr. Rachel M. Werner is a core investigator at the Center for Health Equity Research and Promotion (CHERP) at the Philadelphia VA Medical Center. She is also professor of medicine and director of health policy and outcomes research at the Perelman School of Medicine, University of Pennsylvania. As a young investigator, Werner received the 2010 Presidential Early Career Award for Scientists and Engineers. Werner directs the VISN4 Center for Evaluation of Patient Aligned Care Teams (CEPACT)—VA's patient-centered medical home model. In that capacity she leads research teams that evaluate the effectiveness of the Veterans Health Administration medical home program. Werner is a prolific investigator and has published her research in high-impact journals such as JAMA, Health Services Research, and Health Affairs. The thrust of her research probes the effects of health care policy and delivery systems on the quality of patient care. She was the among the first to recognize the unintended consequences of public reporting of quality measures in patient care. The academy cited Werner for advancing medicine's understanding of the dynamics of physician performance measurement and reporting.