September 26, 2018
VA spinal cord injury researcher receives award for top scientific paper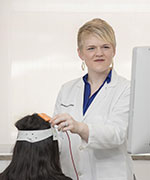 Dr. Kelsey Potter-Baker
(Photo credit: Dr. Kelsey Potter-Baker)
VA researcher Dr. Kelsey Potter-Baker received the Ernest Bors, MD Award for Scientific Development for 2017 from the editors of the Journal of Spinal Cord Medicine. JSCM is the official journal of the Academy of Spinal Cord Injury Professionals. The award is given each year for the best research article published by a young investigator.
Potter-Baker was cited for her work on an article discussing the use of transcranial direct current stimulation (tDCS) to restore function in patients with spinal cord injury (SCI). Potter-Baker and her team conducted a pilot study to investigate the combined effects of tDCS and rehabilitation on Veterans who had long-term, incomplete SCI that affected their ability to move their upper limbs.
Based on the positive results of the pilot study, the Cleveland Clinic's Lerner Research Institute has been awarded a $2.5 million grant to conduct a clinical trial based on Potter-Baker's work. The randomized trial will be conducted at multiple sites, to include the Cleveland Clinic, Louis Stokes Cleveland VA Medical Center, and Kessler Institute for Rehabilitation in New Jersey.
"We are delighted to have the opportunity to validate and extend our previous findings in a large clinical trial," said Potter-Baker told the Consult QD. "We look forward to offering this promising noninvasive method to more people and ultimately see it become part of standard rehabilitation therapy."
Potter-Baker is a biomedical engineer and researcher with the Advanced Platform Technology (APT) Center at the Louis Stokes Cleveland VA Medical Center in Ohio. The APT Center is a research facility that focuses on the practical needs of individuals disabled by sensorimotor dysfunction, cognitive deficits, or limb loss.
She is also an investigator in the department of biomedical engineering at the Cleveland Clinic Foundation. Her work is focused on developing electronic devices that interface with neurons in the brain to help people recover loss of mobility that stems from SCI and brain trauma.
Transcranial magnetic stimulation (TMS) is a non-invasive procedure that is used clinically to measure damage to the central nervous system from a number of diseases like stroke. The FDA has approved TMS therapy to treat major depressive disorder, treatment-resistant depression, pain associated with certain migraine headaches, and obsessive compulsive disorder. It is also being tested for efficacy in a range of conditions like PTSD, stroke, and chronic pain. Unlike tDCS, where electrical currents are applied directly to the brain through electrodes, TMS makes use of a magnetic field to generate electrical currents in the brain.
*To find out more about the potential applications for TMS read "Studies using electrical stimulation, neuroimaging aim for new insights on TBI, PTSD" and "Brain stimulation technique shows promise in reducing fear in Veterans with PTSD."