October 16, 2020
VA's chief research officer receives Prostate Cancer Foundation award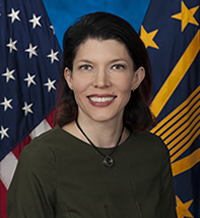 Dr. Rachel Ramoni
Dr. Rachel Ramoni, VA chief research and development officer, was selected as the inaugural recipient of the "Above and Beyond" award, given by the Prostate Cancer Foundation (PCF), Women in Science Forum. Ramoni was recognized for her transformational leadership that has advanced biomedical research progress for Veterans with prostate cancer. The award also recognizes her outstanding national contributions to the fight against COVID-19. The award will be presented during the virtual PCF Women in Science Forum on Oct. 20, 2020, part of the 27th Annual PCF Scientific Retreat.
Ramoni is responsible for developing and executing the strategy for VA's nationwide research enterprise, which encompasses more than 7,300 active projects at more than 100 sites. VA research is supported by a nearly $2 billion dollar budget, which includes both direct VA support and outside funding.
Under Ramoni's stewardship, the VA Office of Research and Development has implemented policies that have streamlined research efforts, especially for multisite clinical trials. For instance, historically it has taken at least eight months to start up a clinical trial. Ramoni was already building on efforts to reduce that timeline when the pandemic occurred. Acting quickly, she and her team were able to accelerate that process to a matter of weeks for a clinical trial that is examining a prostate cancer drug to treat COVID-19.
"The COVID-19 pandemic has created numerous challenges, both professional and personal, within the clinical research enterprise," said Dr. Jonathan W. Simons, president and CEO of the PCF. "We congratulate Dr. Ramoni as the inaugural recipient of the new 'Above & Beyond Award' and thank her for her inspiring leadership and energetic collaboration in fast-tracking a clinical trial protocol to bring an important PCF-VA clinical trial to Veterans with COVID-19."
The trial Simons refers to is called HITCH, which stands for "Hormonal Intervention for the Treatment in Veterans with COVID-19 Requiring Hospitalization." It examines the effectiveness of degarelix, a drug typically used to treat advanced prostate cancer, to treat COVID-19 in men. The trial initially kicked off at three VA Precision Oncology Program for Cancer of the Prostate (POPCaP) sites, and has since expanded to other VA sites.
To support better prostate cancer care for Veterans, VA established the POPCaP program in partnership with the PCF, which made a $50 million commitment to VA, in late 2016. There are currently 12 hubs in the POPCaP network distributed across the U.S.— Ann Arbor, Michigan, Boston, Chicago, Durham, North Carolina, Bronx and Manhattan, New York, Philadelphia, Portland, Oregon, Los Angeles, Seattle, Washington, Tampa/Bay Pines, Florida, and Washington D.C.
POPCaP embraces a broad strategic priority to deliver precision cancer care to all Veterans, irrespective of where they live. The program reaches not only urban Veterans who live near the hubs, but also Veterans who live in remote rural areas who may have had difficulty accessing specialized health care services.
Using DNA testing, POPCaP has helped VA clinicians to customize cancer treatments for individual Veterans. The program matches Veterans with metastatic prostate cancer to treatments based on specific mutations identified in their tumors.
In 2020, building on the POPCaP platform, Ramoni led the launch of a pilot program called Prostate Cancer Analysis for Therapy Choice (PATCH). PATCH is a network that supports a range of clinical trials for prostate cancer that are based upon mutations in Veterans' tumors. PATCH aims to offer many treatment studies to Veterans—providing the best chance for survival and quality of life by matching them with the right clinical trial. Additionally, PATCH has the potential to bring clinical trials to Veterans in rural and less urban settings and thereby provide greater access to precision oncology care and novel treatments.
In addition to advancing precision oncology research, Ramoni is committed to promoting diversity within the VA research enterprise. She realizes that the research community possesses an untapped pool of talent that can contribute to diversity of thought and experiences. Through a commitment to diversity, Ramoni has been instrumental in mentoring women researchers in VA.
"Dr. Ramoni's professional, direct approach toward demonstrating equity and inclusion in VA research has helped women clinicians and scientists feel confident that they can be major contributors and leaders in research," said Dr. Julie Lynch, a research scientist with the VA Informatics and Computing Infrastructure (VINCI).