June 5, 2019
VA scientist Dr. Rory Cooper newest addition to USPTO Collectible Card Series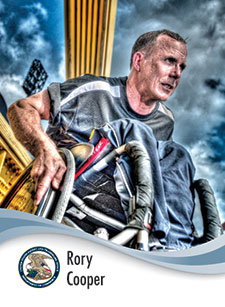 VA researcher Dr. Rory Cooper was selected by the United States Patent and Trademark Office as the newest face of its Inventor Collectible Card Series. The card was unveiled during a ceremony at the Smithsonian Institution in Washington, D.C., on May 18, 2019.
The series was launched in 2012 to inspire young people to become future inventors. The cards show cartoon depictions of 28 inventors. They feature famous people like George Washington Carver, Hedy Lamar, and Steve Wozniak.
The inscription on Cooper's card reads:
"Rory Cooper is a distinguished professor of rehabilitation engineering at the University of Pittsburgh and a senior career scientist for the U.S. Department of Veterans Affairs. His team has developed over 100 inventions and holds multiple patents related to wheelchairs, robotics, and wearable instruments designed to improve the lives of people with disabilities and military Veterans."
Cooper is director of the Human Engineering Research Laboratories (HERL) in Pittsburgh, a collaboration between VA and the University of Pittsburgh. Cooper's laboratory is known for developing innovative technologies to aid Veterans and others who are disabled.
Cooper—who is a wheelchair user himself—and his team hold patents on 25 innovations in wheelchair designs. Their inventions are being used by more than 250,000 people of all ages and walks of life.
Examples of the team's inventions include a robotic wheelchair that can climb steps and a waterproof wheelchair that runs on compressed air called the PneuChair.
Cooper's lab was already working on a prototype for the PneuChair when they were approached by a San Antonio nonprofit. The group wanted help in developing a powered chair for a new splash park called Morgan's Wonderland.
"Their needs and our research were essentially an ideal match," said Cooper. "The potential to open opportunities for people with disabilities who need powered mobility to access splash parks, water parks, beaches or pools is transformative."
*Read Dr. Rory Cooper's blog post about the ceremony to announce his new Inventor Collectible Card.