May 29, 2014
Viscardi Achievement Award to Rory Cooper, Ph.D.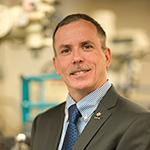 Rory Cooper, Ph.D., is one of 12 recipients of the international 2014 Henry Viscardi Achievement Awards, which honor leaders in the disability community who have had a major impact on shaping attitudes, raising awareness, and improving the quality of life of people with disabilities.
Cooper is a distinguished professor at the University of Pittsburgh and director of VA's Human Engineering Research Laboratories, where investigators develop and test innovative technologies related to wheelchairs and mobility.
The Viscardi Awards are named for the Viscardi Center's founder, Dr. Henry Viscardi Jr., who himself wore prosthetic legs. As one of the world's leading advocates for people with disabilities, he served as a disability advisor to eight presidents, from Franklin D. Roosevelt to Jimmy Carter.
Along with Dr. Cooper, other recipients of the 2014 awards include baseball star Jim Abbott, actress Marlee Matlin, and America's first professional wheelchair dancer, Mary Verdi-Fletcher.
From the Viscardi Center website:
"Since his spinal cord injury over 30 years ago, Dr. Cooper has dedicated his life to improving the lives of people with disabilities; his research initiatives and innovations have spawned companies, additional research and development projects, and served as models for initiatives across the world to further the education, employment, and recreational opportunities for people with disabilities. He has integrated research through clinical practice guidelines and innovative technologies aimed at delivering quality medical rehabilitative care and improving levels of function and independence of persons and Veterans with disabilities. His devices (e.g., Natural Fit Handrim, GameCycle) are used by over one-quarter million people with disabilities, and research equipment he designed (e.g., SMARTWheel, Wheelchair Data-Logger) is being used in nearly 100 laboratories and training facilities around the world."