February 18, 2021
VA tech transfer specialist named FLC Rookie of the Year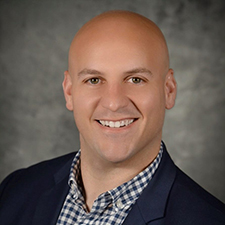 VA tech transfer specialist Ryan Davis was named 2021 Rookie of the Year by the Federal Laboratory Consortium.
VA technology transfer specialist Ryan Davis was named 2021 Rookie of the Year by the Federal Laboratory Consortium (FLC). The award is given in recognition of an early-career individual who has made significant contributions to the field of technology transfer. It is the first time a staffer with the VA Technology Transfer Program (TTP) has been recognized by the FLC. Davis will be honored at the FLC Awards Program on April 7, 2021, along with recipients of 32 other FLC awards from federal labs throughout the government.
"Mr. Davis is an outside-the-box thinker who brings a fresh perspective to a vast federal agency established nearly 100 years ago. He uses innovation and creativity to improve Tech Transfer Program outcomes," said Dr. John Kaplan, director of VA's TTP. "For example, he identified a technology commercialization model being used by other federal entities and led VA's successful effort to adopt a similar approach."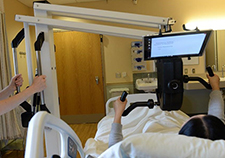 The M-PACE upper-limb exercise device was developed by VA researchers at the Minneapolis Adaptive Design and Engineering Program.
Davis is one of 10 specialists who support VA's TTP, which was established to commercialize products and inventions developed by VA researchers. The program works closely with tech transfer partners at affiliate universities across the country. Davis' efforts help to ensure that cutting-edge VA research advancements are brought to market in a timely manner, benefitting Veterans and others. Davis is responsible for fostering and managing relationships with 14 research affiliates and 13 VA medical centers across 10 states throughout the Midwest and western regions of the U.S.
By networking with other tech transfer professionals, Davis helped to establish a collaboration with Tech Link, a tech transfer intermediary. He also worked to develop a relationship with FedTech, a company dedicated to moving innovation to the marketplace through startup studios, tech accelerators, and venture capital programs. One such innovation is the Smart Bandage, which was developed by researchers at the VA Cleveland Advanced Platform Technology Center.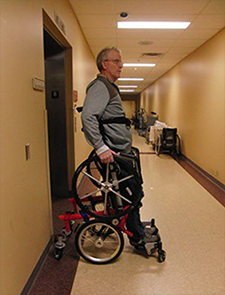 A manual standing wheelchair that is also mobile was developed by researchers at the Minneapolis VA Health Care. (Photo by Billie Slater)
Davis executed patent licenses in the past year for three inventions: a mobile, manual, standing wheelchair, the M-PACE arm cycle exercise device, and a Bluetooth-enabled camera to view difficult-to-see diabetic ulcers.
"Any success that we have in technology transfer is a reflection of the great research happening at VA medical centers around the country. It is an honor to be recognized by the FLC. I continually strive to better serve the VA research community in facilitating the transfer of VA technologies to industry," said Davis.
The FLC is a network of over 300 federal laboratories and research centers that share best-practices for the speedy transfer of promising inventions from the lab to the marketplace. The FLC Awards Program annually recognizes federal laboratories and their industry partners for outstanding technology transfer achievements. The awards are a way to acknowledge the creativity and dedication of federal scientists and inventors across the U.S. To learn more about how technology transfer or "T2" drives economic advancement and improves American's lives, watch this short video.