August 7, 2020
Three VA researchers honored by SGIM for leadership and innovation
The Society of General Internal Medicine recently recognized three VA researchers for their significant achievements and innovations in the health care profession during its annual meeting, SGIM20-On Demand.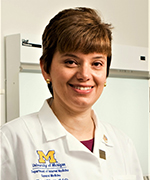 Dr. Eve Kerr
Dr. Eve Kerr is director of the VA Quality Enhancement Research Initiative for Diabetes Mellitus at the Ann Arbor VA Healthcare System. She received the John M. Eisenberg National Award for Career Achievement in Research. Dr. Mitesh Patel, director of the VA Advanced Fellowship Program in Health Services Research and Development in Philadelphia, received the Quality and Practice Innovation award. Dr. Utibe Essien, a core investigator at the VA Center for Health Equity Research and Promotion in Pittsburgh, was one of three researchers recognized with the Unified Leadership Training for Diversity award.
The Eisenberg award, given to Kerr, who is also a professor of internal medicine at the University of Michigan, recognizes senior physicians whose innovative research has changed the way doctors care for patients, conduct research, and educate students. It is named for the late Dr. John M. Eisenberg, honoring his trailblazing work as a researcher, mentor, and strong advocate for research in general medicine.
Dr. Mitesh Patel
"I am extremely honored to receive the Eisenberg Award," Kerr said in her acceptance video. "This is a very meaningful award for me. In the nearly 30 years since I became an SGIM member, my colleagues have taught me the most important lesson of how to strive to make a difference in the lives of our patients and the health care system. I am also indebted to my mentors who have helped me develop my professional interests."
The Quality & Practice Innovation awardee, Patel, is creator and director of the Penn Medicine Nudge Unit at the University of Pennsylvania. He is also assistant professor of medicine and health care management at the Perelman School of Medicine and Wharton School at the university. The award recognizes general internists and their organizations that have successfully developed and implemented innovative systems of improvement in ambulatory or inpatient clinical practice. Patel was honored for starting the unit, the world's first behavioral design team embedded within a health system. It is being adopted by other health systems around the world.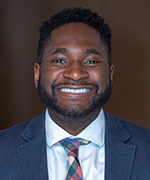 Dr. Utibe Essien
"The unit's mission is to apply insights from behavioral economics to improve health and health care and to take a systemic approach to implement testing and scaling approaches that work," Patel said. "This is such wonderful recognition from the society, and on the behalf of the Nudge unit, I want to thank the review committee for helping to further our mission as we look forward to the many opportunities ahead."
Essien's Unified Leadership Training for Diversity award recognizes junior and mid-career faculty from underrepresented groups that have developed the complex skill sets required to successfully lead academic sections and departments. The ULTDA also provides mentoring, scholarships to attend leadership training, and financial assistance.
Essien, in addition to his VA role, is an assistant professor at the University of Pittsburgh School of Medicine.
"I'm really proud and grateful for this opportunity and to be following in the esteemed footsteps of my mentors," said Essien. "I'm looking forward to their leadership and the support I've gained through this scholarship."
The SGIM annually presents awards and grants, which are among the highest honors bestowed by the Society. Members may nominate themselves or colleagues who have made significant contributions to the profession over the past year. Awards and grants presented in 2020 recognize achievements and contributions during 2019.