November 29, 2018
VA neuroscientist receives Axelrod Prize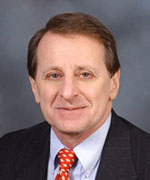 Dr. Stephen Waxman
Dr. Stephen Waxman received the 2018 Julius Axelrod Prize from the Society of Neuroscience. He was honored for his research describing the roles that ion channels play in diseases of the brain and spinal cord. The Axelrod Prize is given in recognition of exceptional achievement in neuropharmacology or related fields.
Waxman is founder and director of the Center for Neuroscience and Regeneration Research—jointly located at the VA Connecticut Healthcare System and Yale University in West Haven, Connecticut. He is also the Bridget M. Flaherty Professor of Neurology at Yale.
Scientists at the center seek to understand what is happening on a molecular level in conditions like spinal cord injury, multiple sclerosis, neuropathic pain, and inherited erythromelalgia, or "man on fire syndrome." The team is also working to develop new drugs or repurpose existing drugs to treat diseases of the nervous system.
"We have a lot more work to do," Waxman said in a recent interview with The Lancet, "but I believe that we will at some point have more effective pain medications, without CNS [central nervous system] side effects or the potential for addiction."
Ion channels are specialized proteins within cells that allow ions—molecules with an electrical charge—to pass across cell membranes. Ion channels direct the transmission of electrical signals along nerve cells, controlling body functions like movement and the sense of touch.
Waxman identified the role that ion channels play in causing pain. As part of an international coalition, he and his team pinpointed sodium channel mutations as causes of peripheral neuropathy—nerve pain in the hands or feet. Injured nerve cells can impair sodium channel function, which causes neurons to become hyperexcitable and more prone to sensing pain.
His lab also discovered that there is increased expression of sodium channels in diseases like multiple sclerosis, in which nerve cells lose their protective coating, or myelin. His lab is working to understand the molecular mechanisms that underlie recovery of electrical conduction in nerves cells that are demyelinated.
Waxman has authored over 600 scientific studies and edited 9 books, and he is the author of several neuroanatomy texts. His most recent book is "Chasing Men on Fire: The Story of the Search for a Pain Gene."
Waxman has received many awards during his distinguished career, including the William S. Middleton and Paul B. Magnuson awards—given by VA for outstanding achievements in biomedical/bio-behavioral research and rehabilitation research, respectively.