May 6, 2014
John Blair Barnwell Award to Steven Kahn, M.B., Ch.B.
Named for Dr. John Blair Barnwell a distinguished educator, physician-scientist, and former VA director of research and education, this award honors outstanding achievement in clinical science. The award recognizes senior VHA investigators who have achieved international acclaim for clinical research accomplishments in areas of prime importance to VA's research mission and who have also demonstrated a high level of clinical commitment to the patient population.
Steven Kahn. M.B., Ch.B.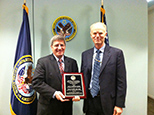 Barnwell Award winner Dr. Steven Kahn (left), a physician-researcher at the VA Puget Sound Healthcare System, poses with Puget Sound medical director Dr. Michael Murphy after receiving the award during a presentation at the VA Office of Research and Development in Washington, DC.
A VA clinician-scientist for more than 26 years, Dr. Kahn is widely known for his groundbreaking work in endocrinology. In addition to his significant contributions to the understanding of clinical disorders of insulin resistance, Dr. Kahn has led a number of highly regarded, large-scale clinical trials in the prevention and treatment of type 2 diabetes. He is widely acclaimed for his ability to combine basic and clinical research approaches—a talent that has enabled him to significantly advance the science in this important research area. Dr. Kahn's leadership on many important clinical trials sponsored by VA and the National Institute of Diabetes and Digestive and Kidney Diseases, part of the National Institutes of Health, underscores the crucial role VA plays in many major nationwide trials that involve NIH or other federal partners.
To learn more about Dr. Kahn and his work, see:
Article describing clinical trial on prevention of type 2 diabetes led by Dr. Kahn http://www.washington.edu/news/2013/05/23/clinical-trial-aims-to-prevent-type-2-diabetes-through-medication/
Kahn: "I have always been interested in biology and intrigued about how things work. Thus, biomedical research was the logical place to combine both. Working on diabetes in the laboratory and the clinic has been very fulfilling, and has allowed me to try and make a difference in the lives of Veterans, who are disproportionately affected by type 2 diabetes."
To learn more about the Barnwell award, and for a list of previous recipients, see www.research.va.gov/services/csrd/research-awards.cfm