September 7, 2018
VA psychologist and PTSD expert recognized by American Psychological Association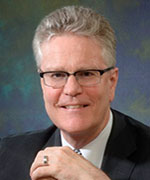 Dr. Terence M. Keane
Dr. Terence M. Keane, director of the behavioral science division at the National Center for PTSD, has received the 2018 Presidential Award from the division of trauma psychology at the American Psychological Association (APA). The award, given annually, recognizes individuals who have "made unusual and outstanding contributions to the division of trauma psychology."
Keane, who serves as associate chief of staff for research and development at VA Boston Healthcare System, is an authority on posttraumatic stress. He is credited with developing some of the most commonly used PTSD assessment tools and has been a leader in using cognitive behavioral therapy for treating those with PTSD.
Keane, also a professor of psychiatry and assistant dean for research at Boston University School of Medicine, is noted for his seminal contributions to the understanding and development of treatments for PTSD. Over his career he has published more than 300 articles, chapters, and books on the subject. His recent published work includes journal articles that discuss the use of doxazosin (usually prescribed for high blood pressure or to improve urination in men with an enlarged prostate) for treating co-occurring PTSD and alcohol use disorder and the comparison of two different types of prolonged exposure therapy to better treat combat-related PTSD.
In 2015, Keane received the John Blair Barnwell Award, the highest honor from VA Clinical Science Research and Development. He is also the recipient of the Lifetime Achievement Award from the International Society of Traumatic Stress Studies, and the Outstanding Researcher Award in Cognitive Behavior Therapy from the Association for Behavioral and Cognitive Therapies.
Keane currently serves as president of the American Psychological Foundation, the philanthropic arm of the APA.
The APA, located in Washington, D.C., is the largest scientific and professional organization representing psychology in the United States. APA's membership includes more than 117,500 researchers, educators, clinicians, consultants, and students.